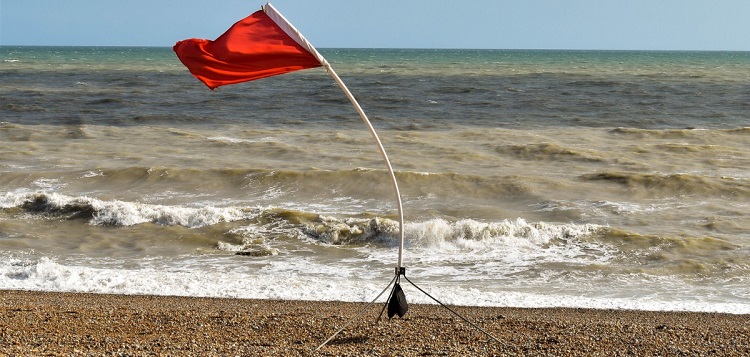 Here's a fun little question for today: what are your red flags when you're dating someone (or your friends are dating someone) — the things that make you question whether this person is worth the time and energy of dating?
(If you're married or partnered – what have your red flags been in the past? Have you ever seen a red flag come up after you've married, and what did you do?)
I've written before about how one of my red flags was kind of an internal one — if I rolled my eyes at someone I was dating, I knew it was time to break it off (or, at least, closely examine why I was dating someone I had contempt for). For example, one of my former guys never quite made it to the official status of "ex" because we only went on six or seven dates, despite him being a handsome, smart guy.
With this particular guy, every time he told me more about his past, such as why he had gone to the law school he did, why he worked where he did, or even why he had chosen to buy that jacket — my eyes involuntarily rolled back in my head.

I caught myself doing it once, and tried to rationalize it as me being too judgmental. I caught myself doing it a second time, and then a third (did I mention he was very handsome?) and finally realized we were just totally different animals when it came to decisions.

I couldn't respect his decisions or the processes through which he had arrived at them, and I had to break it off. Does it mean that his decisions were wrong? Nope, not at all. It just meant that I had a strong feeling those decisions were different ones than I would have made.
There are SO many great comments in that older thread — I thought I'd summarize some of them here. Common red flags the readers called out include:
racism, misogyny, smoking
YOUR reaction: are you excited to spend time with the person — are they worth missing time with friends or something else (e.g., yoga class)
compatible lifestyles/goals, similar enough family backgrounds that you can understand each other's perspectives
whether you could be yourself around your date — whether that's "having real discussions about things that are important to me," "feeling comfortable looking like an idiot in front of him," and/or not hiding "harmless idiosyncrasies" like wanting to sit on a specific side of a table
"In retrospect, my test should have been that the guy needs to make you feel better about yourself, not worse." (I LOVE THIS ONE!)
How your date treats their mom and other family members…
Here were some more specific dating red flags that were great…
One divorced commenter noted that being a bad fighter was a deal breaker:
If I disagree and the BF is condescending, nasty, cutting, or biting, it is OFF. My ex husband was like that and while it wasn't bad early on, once the passion died down, what was left was a lot of ugliness. You don't forget the hurtful things your partner says in a fight. So, I really pay attention to how a guy handles disagreements.
One commenter found that there were three kinds of ways men react to smart girlfriends:
I found there were three types of men: those who don't want a smart girlfriend, those who want a smart girlfriend because it makes them feel smarter, and those wanted a girlfriend they could love regardless.

The first type were easy to spot. The second type though, they were hard. I knew my now husband was the third type because he was interested in my work, but asked questions about it instead of trying to show how much more he knew about my field than I did.
One commenter had a very specific "black tie and baseball game test":
I have the black tie and baseball game test. This is after date 8-10 when I've decided okay I like you, enjoy spending time with you but is there any point in carrying on. I need to be able to take you to a black tie event and not babysit you. I don't want to worry about 1) you sulking in a corner because you're not having fun or 2) saying something stupid that will embarrass me.

At the same time I need to be able to take you to a baseball game and drink some beer and relax. You can't be stuck up and not be able to enjoy yourself. If you can do both, I can probably take you anywhere.
Readers, over to you — what are some of your big red flags when dating? What red flags did you ignore and wish you hadn't? Hindsight being 20/20 – what should have been your red flags?
Stock photo via Stencil (red flag waving on a beach).