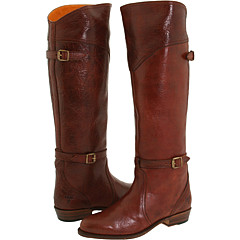 Reader J wonders:
I have a question I'd love to see addressed on your blog (or maybe you can just give me your $.02): can I wear riding boots to work? If so, how? I am in court every day, but it's juvie so it's not like I have to wear a suit every day.
Hmmn. Well. Honestly? My $.02 here is that no, you really should not wear riding boots to court. Certainly not with leggings or skinny pants, and definitely not with miniskirts. The "librarian in the 80s" look of a knee- or calf-length A-line skirt, fitted jacket, and riding boots might work… but something tells me that's not what you have in mind. You can, of course, wear them beneath trousers.
(Pictured above: Frye – Dorado Riding (Bordeaux Textured Full Grain) – Footwear
, $458 at Zappos.)
I guess my gut reaction is stemming from the fact that these boots are originally intended for riding horses. Like pants intended for yoga, and leather jackets intended for motorcycle wearers, they may occasionally be acceptable for a very, very casual day at some offices — but court is not one of those places.
I'll let the commenters weigh in here… ladies? When can and can't you wear riding boots to the office? Am I wrong to group all "intended for" clothing into one bucket?
Hunting for black knee-high boots? Here are some of our long-standing favorites as of 2023!