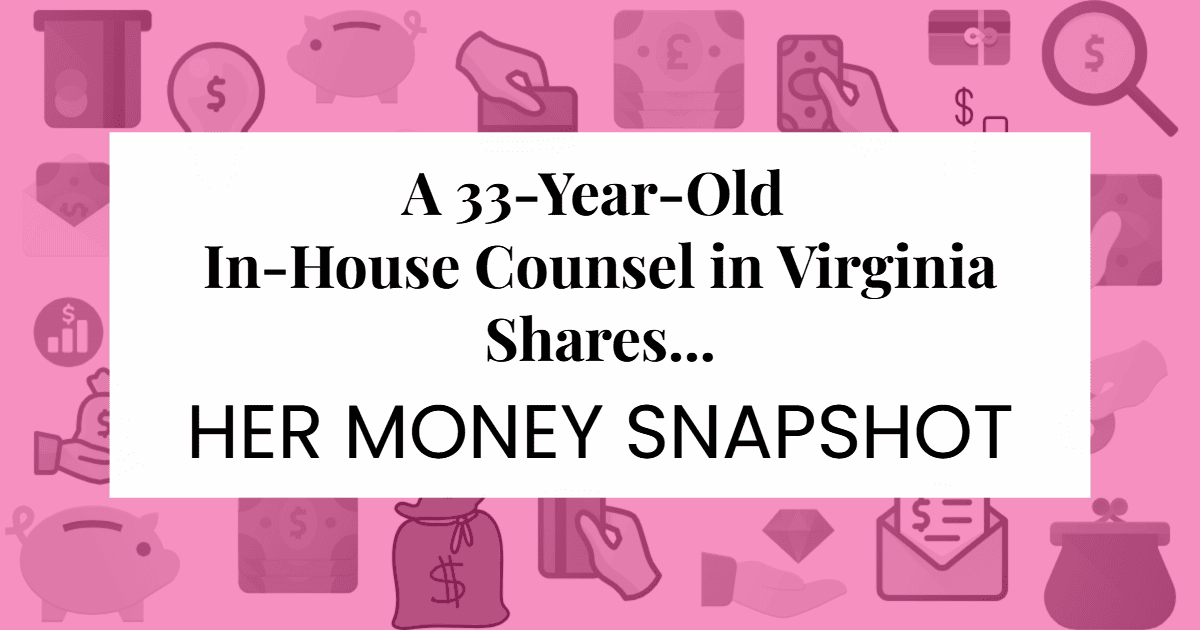 For today's Money Snapshot, we're talking salary, net worth, debt, and more with reader F in Northern Virginia, who works as an in-house counsel. She noted, "[My husband and I] graduated with no debt thanks to parents (him) and scholarships (me). Income went up sharply six months ago (from $225K/year to current)."
We got a few requests from readers to launch our own "money diary" series, so we've asked willing readers to fill out a form with lots of details about debt, spending, saving, and more! If you'd like to fill out the form and be considered for a future personal money snapshot, please click here to submit your response! You can see a PDF of the questions if you want to review them ahead of time. See others in the Personal Money Snapshot series here.
Please remember that this is is a real person who has feelings and isn't gaining anything from this, unlike your usual friendly (soul-deadened, thick-skinned, cold-hearted, money-grubbing) blogger — so please be kind with any comments. Thank you! — Kat
Name: F
Location: Northern Virginia
Age: 33
Occupation: Military law –> in house
Income: $345,000
Household net worth: $950,000 (not including home equity)
Net worth when started working: Worked part time since I was 13, full time at 25 with a net worth of $5,000ish
Partner/spouse: Husband, 38 years old; in tech
Household income: $460,000
Childcare and/or education: 2 children, $950/week for childcare
Living situation: Own single-family home
Debt
How much debt do you have currently?
Zero except for mortgage ($2,900/month) with $450,000 remaining
What does your debt picture look like?
We bought in 2020 and aimed to purchase a home where we could 1) put 20% down (even though w/VA loan eligibility that wasn't necessary) and 2) we could make the monthly payment on one salary. We ended up meeting those criteria and got a 30-year loan in 2020 with a low interest rate for a $620,000 SFH. We've consistently paid an extra $500/month to the principal. Our main financial goal right now is to pay off the mortgage in 18 years (rather than 30), which will be when our oldest goes to college.
How much money are you spending each month to pay down debt?
Regularly pay $500 extra to mortgage each month; for the next 1.5 years trying to do $3,500 extra each month.
How did you pay for school?
I got a full scholarship for college (room and board) and a scholarship for tuition in law school (paid for housing with roommates, part-time jobs, and other scholarship money). My husband's parents paid for his college and we are prioritizing being able to do the same for our kids.
Do you own or rent? How much do you pay monthly?
Own, $2,900/month for single-family home, principal/interest/taxes/insurance
Home debt: Share your theories and strategies with us (including any that lead you to rent rather than own). 
The only debt we've ever had is the house — no student loan, car, or credit card debt, and [we are] extremely debt-averse.
Have you ever done anything noteworthy to avoid or lessen debt?
Paying our mortgage down right now doesn't make a ton of sense. With an interest rate just below 3%, we could easily make more in other investments. But if the most emotional thing I do with my money is pay down debt faster, I think I'm OK with that.
Savings, Investments & Retirement
How much do you save each month or year in retirement vehicles like 401Ks, Roth IRAs, and others?
We max out my husband's 401k, 2x IRAs, and my mega-backdoor Roth. I think that's about $8,500/month total.
How much money do you allocate to other tax-savvy investments/accounts like HSAs, 529s, FSAs, and others?
We have about $150,000 in a 529 (for a 3 y.o. and 1 y.o.) and plan to contribute enough next year to get each to $100,000 and then $4,000/year after that. My husband has an HSA from a prior health set up, but I haven't confirmed if it's invested well, will plan to invest it and leave until retirement probably but low on the list.
How much do you save outside of retirement accounts?
After retirement, we have yearly goals. So this year was $34,000 to each kid's 529 account, sinking fund for future car purchase (three years out or so), max retirements, then pour extra into the mortgage.
Talk to us about investments. Do you use a financial adviser/planner?
Target date for retirement and 529 plans, Vanguard ETFs for IRAs. We don't have a financial planner, but I've taken advantage of free check-ins that my employer offers to make sure I'm on track.
Do you have an end goal for saving or are you just saving for a rainy day?
We're debating this now. For a long time it was 1) down payment and then 2) college for kids. Both are well in hand, so trying to find a different goal to focus on.
What's the #1 thing you're doing to save money, limit spending, or live frugally?
On our previous income, we lived as if we would only have one in case someone was laid off. Since my salary went up, we've made minimal lifestyle changes (ordering pizza vs. making it at home is the biggest splurge I can think of) and are banking as much as possible.
When did you start saving seriously? How has your savings strategy changed over the years?
I started saving as soon as I started getting money. My father is an accountant and drilled it into us early. Plus when I asked my parents if they'd take me in if I was living on the street, they told me they might give me leftovers from their dinner but that was it. (I was seven.)
Have you ever made a big money move or investment with savings in mind, such as rolling over an older IRA into a Roth IRA or superfunding a 529?
Frontloading the 529. I'll get stock from my employer in a bit and need to figure out what to do with that (probably sell and diversify in an ETF.)
Do you have an estate plan in place? A trust? 
I wrote my own will when I was a military lawyer, but it's pretty basic. Having had to manage family member deaths, I've prioritized 1) collecting all account and password information and 2) having accurate beneficiaries on accounts where possible.
How much do you have in cash that's available today?
$7,000
How much do you have in cash that's available in a week?
$180,000 (includes what is available today — blame my partner's bloated emergency fund)
How much is in your "emergency fund," and did you include it in the previous question?
$150,000 split between checking, savings, and HYSA. My husband leaves too much cash in his HYSA but I haven't gotten him to reallocate yet.
How much do you have in retirement savings?
$270,000 for me and about the same for my partner
How much do you have in long-term investments and savings (CDs, index funds, stocks) that are not behind a retirement wall?
$60,000 in CDs, $5,000 in index funds,
If property values (home, car) are included in your net worth, how much are those worth?
Not included, but we have home equity of about $350,000. I don't count the cars because we buy in cash and run them into the ground.
Spending
How much do you spend on the following categories on a monthly basis?
Groceries: $450
Restaurants, bars, takeout, and delivery: $200
Clothing and accessories: $50
Transportation: $30
Rent/living expenses: $2,900
Kid-related expenses: $4,000
Entertainment: $200
Other major expenses: Subscriptions ($60/month) and dog ($75/month probably?). Our main hobby is keeping two small kids alive, which mostly involves free playgrounds.
Health care – premiums and other costs: $500/month for a family of 4, $6,000 yearly in addition to premiums.
What's your spending range for these things? What's your average?
Vacations – Range: $0-$3,000
Charity – Range of donations: $250-$1,000
Charity – Average donation or giving amount: $250/month
Individual items of clothing – Range: Lots of Buy Nothing! If not, then Old Navy or thredUP.
Individual items of clothing – Average: $20
Apartment or house – Current main residence: $2,900
Car or other vehicle – Range: $10,000-$29,000
Car or other vehicle: Current main vehicle: Used Honda CRV, $10,000
Fill in the blank on this question: I could save _____ if I stopped ______, but I don't because _______.
$50/takeout once a week, because it is a huge pick-me-up to not have to cook in the middle of the week!
If you're married: When was your wedding, how much did it cost (total), and how much did YOU pay? (If multiple weddings, please note separately.)
2019, $20,000; we paid for the whole thing but got generous financial gifts after the wedding from my dad and extended family that covered about half.
If you own, how much did your home (permanent residence) cost?
$620,000
Have any large medical expenses (including nursing homes) for yourself or others played a role in your financial picture?
I had my kids while in the military so paid $0 for the care associated with both.
At any point in your life to date, has inheritance played a role in your money situation?
My mother died when I was 17 and I saved the Social Security I received (as a minor) and used it to pay for living expenses in law school.
How has your family provided financial support in your adult life, if any? (Or, do you provide support to them?)
No support beyond about $5,000 as a gift for my wedding.
Money Strategy
Do you have a general money strategy?
Make hay while the sun shines! And avoid lifestyle creep.
Time vs. money — do you spend money to save time (e.g., cleaning service)? Do you donate your time instead of money? What else does this phrase mean to you?
I don't spend to save time but have been thinking a lot about it recently with two toddlers and two full-time jobs (and excess money). I currently handle the lawn, the cleaning, and the laundry; my husband does the groceries and cooking. I don't want to start outsourcing, because I'm afraid it's the slow burn into being locked into a job that I may want to switch out of some day (but would also like my house to be clean at some point!). I used to volunteer, but no longer have time for that so have upped my charitable contributions.
What are your favorite resources for personal finance?
I like reading these Snapshots and Reddit forums!
What advice would you give your younger self about personal finance?
My family stopped providing financial support at 18, so even with my scholarships I was extremely stressed about money from 18-25 (to the point of not turning on air conditioning in North Carolina in August, or eating only rice and beans for dinner for a month). I wish I had understood a small loan ($5,000-$10,000) would have alleviated a lot of that stress and probably not have set me back for life.
Icons via Stencil.
Want more posts like this? These are some of the latest Money Snapshots…