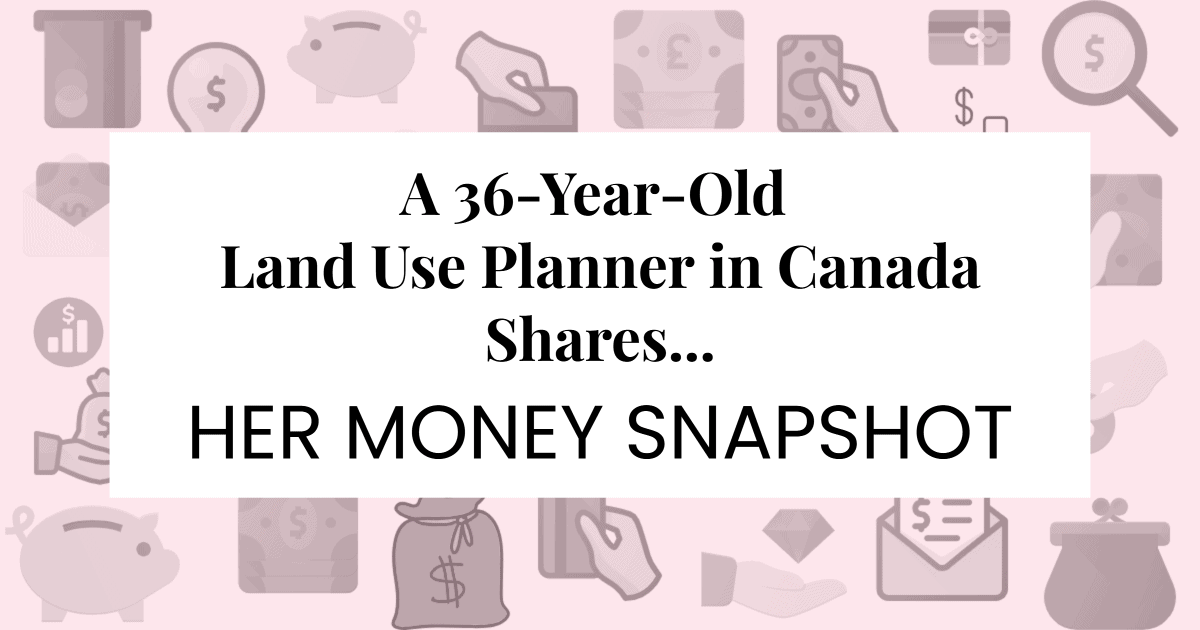 For today's Money Snapshot, we're talking salary, net worth, debt, and more with reader Alex in Canada, who works as a land use planner. She noted, "I was lucky to have my bachelor's education paid for by my parents, and I received a lot of scholarships for my master's to keep me going. I also worked part time for a lot of my education. I moved to a rural area for work and bought a condo. I use it as a rental unit when I moved to a city."
We got a few requests from readers to launch our own "money diary" series, so we've asked willing readers to fill out a form with lots of details about debt, spending, saving, and more! If you'd like to fill out the form and be considered for a future personal money snapshot, please click here to submit your response! You can see a PDF of the questions if you want to review them ahead of time. See others in the Personal Money Snapshot series here.
Please remember that this is is a real person who has feelings and isn't gaining anything from this, unlike your usual friendly (soul-deadened, thick-skinned, cold-hearted, money-grubbing) blogger — so please be kind with any comments. Thank you! — Kat
NOTE: Currency is in Canadian dollars; the exchange rate as of April 2023 is 1 CAD = 0.75 USD.
Name: Alex
Location: Suburban area outside of a Canadian MCOL major city
Age: 36
Occupation: Planner (land use)
Income: About $5,300 monthly (net). $4,200 is from my job, and $1,100 of this is rental income — around $67,800 (net)
Net worth: About $150,000
Net worth when started working: I started full-time work in 2008, and I worked part time from 2013–2015 while doing my master's. I didn't have student loans, so it was a clean slate.
Living situation: Own a home (plus a rental property)
Debt
What does your debt picture look like?
My debt is all mortgage ($117,000). I like to keep as little debt as possible.
How much money are you spending each month to pay down debt?
$700
How did you pay for school?
My undergrad was paid for by my parents, and I worked part time. I graduated in 2008. I then worked for a while to save money, then went back for my master's (again, working part time). I didn't want to take on debt for school.
Do you own or rent? How much do you pay monthly?
Both. I own a condo and rent the unit out, and I rent for myself. Combined living expenses per month are around $2,650. It's important to note that I bought in a LCOL area, so my mortgage, property taxes, condo fees are less than my monthly rent for the unit I personally live in.
Home debt: Share your theories and strategies with us (including any that lead you to rent rather than own). 
I didn't buy as much as I could have — that was deliberate because while I wanted a home, I didn't want to be house-poor. When I was living in the unit, I made a few small extra mortgage payments (without penalty). But since I now use it as a rental unit, I haven't really done that. I have to still figure out what the tax implications are. I took on a 25-year mortgage. I pay down about $400 in principal every month.
Have you paid off any major debt?
Not yet — hoping to pay off the mortgage a bit early.
Have you ever done anything noteworthy to avoid or lessen debt?
I don't know if this counts, but when I was in the city, I lived for years without a car, because I didn't want to take on the loan. When I moved to a rural area I had to get a car though.
Savings, Investments & Retirement
How much do you save each month or year in retirement vehicles like 401Ks, Roth IRAs, and others?
At the moment, I don't put anything into my personal RRSP. I do contribute to my pension, about $560 per month.
How much money do you allocate to other tax-savvy investments/accounts like HSAs, 529s, FSAs, and others?
I'm trying to max out my contributions to my TFSA (tax-free savings account). I put about $600 monthly in.
How much do you save outside of retirement accounts?
I have my emergency funds already "funded," so right now, I'm trying to save money for new furniture and for future home repairs. I also have a fund that I auto-transfer money to twice a month for bigger yearly expenses like my home, tenant, and car insurance, some memberships I have, and vet fees. That way I think the money is already "spent" and I'm not tempted to use it.
Talk to us about investments. Do you have a financial planner?
No, I don't. When I started investing in early 2009 I went to Investors Group and put my money in their funds. I did have an "advisor" (really a salesperson) at that time. IG funds lock people in, so when I eventually switched out after a few years I had to pay a fee. Now, I've learned a lot more about investing, and keep things in index funds. I have several different funds in both my RRSP and my TFSA.
Do you have an end goal for saving or are you just saving for a rainy day?
I REALLY want early retirement.
When did you start saving seriously? How has your savings strategy changed over the years?
Early 2009. I graduated in 2008, and it took me a bit to get a job. Once I had a little bit of an emergency fund, I tried to start investing right away. That's the one thing I did right, was to start as early as possible. I've become more lax with savings over the years, especially when I got to a point where I just really wanted to enjoy myself. The auto transfers help, but sometimes I think I'm not saving enough.
What's the #1 thing you're doing to save money, limit spending, or live frugally?
I try and moderate my clothing spending. I love clothes, but I just can't justify the expense. Especially now, when I work from home.
Do you have an estate plan in place? A trust?
No
How much do you have in cash that's available today?
I have about $3,000 available. Some in cash, and some in my chequing account.
How much do you have in cash that's available in a week?
About $40,000
How much is in your "emergency fund," and did you include it in the previous question?
I have two emergency funds, totaling about $40,000. Yes, they were included in previous question. One is a personal fund with $30,000, and the other is a rental emergency fund with about $10,000. This represents about nine months of personal living, and rental costs if I don't have a tenant.
How much do you have in retirement savings?
My RRSP has about $40,000. I'm waiting for my latest pension statement, but at the end of 2020 I've made about $42,000 in contributions [Note: Money Snapshot submitted in 2022]
How much do you have in long-term investments and savings (CDs, index funds, stocks) that are not behind a retirement wall?
About $62,000
If property values (home, car) are included in your net worth, how much are those worth?
They were not included in net worth. My car is old, and I doubt I'd get anything for it. I don't count my condo toward my net worth yet, as I'm still paying off the mortgage.
Spending
How much do you spend on the following categories on a monthly basis?
Groceries: $400
Restaurants, bars, takeout, and delivery: About $150
Clothing and accessories: $150
Transportation: Not much anymore — working from home has me saving on gas. Insurance costs about $120 per month.
Rent/living expenses: $2,650
Entertainment: $50 (used to be more — I love the movies)
Other major expenses: $200 for a pet, maybe $100 on watercolour painting supplies and membership
Health care – premiums and other costs: For one person, I pay about $70 per month. I spend extra on dental, glasses, prescription sunglasses, some physio. I think the extra last year was about $400 or so.
What's your spending range for these things? What's your average?
Vacations – Range: $1,000–$3,000
Vacations – Average: $2,000
Charity – Range of donations: Up to $200
Charity – Average donation or giving amount: Around $20–$50
Individual items of clothing – Range: $10 to $350. I spent the most on a winter jacket, I think it was $350.
Individual items of clothing – Average: I will pay $150 for a dress. Maybe around $30 for tops. I try and buy everything on sale to keep costs low.
Apartment or house – Range: $500–$1,450. I've lived with lots of roommates before, but I didn't like it.
Current main residence: $1,450
Car or other vehicle – Range: $20,000. I've only had one and I bought it used.
Car or other vehicle – Average: $20,000
Fill in the blank on this question: I could save _____ if I stopped ______, but I don't because _______.
I could save $30 a month if I stopped trying new hair care products, but I don't because I'm always searching for new ways to make my curls look good
If you own, how much did your home (permanent residence) cost?
$150,000
If you have vacation homes, timeshares, or income properties, how much did those cost?
The income property was the $150,000. It wasn't intended to be an income property at first. I lived in it for a little while, but got a great job offer two hours away. It turned into a rental, and I rent in my current city.
Have any large medical expenses (including nursing homes) for yourself or others played a role in your financial picture?
No, thankfully.
How has your family provided financial support in your adult life, if any? (Or, do you provide support to them?)
Paying for my education.
Money Strategy
Do you have a general money strategy?
Invest small amounts regularly, and let time do the work.
Time vs. money — do you spend money to save time (e.g., cleaning service)? Do you donate your time instead of money? What else does this phrase mean to you?
I think money gives the choice of how to spend your time. Life is easier with money.
What are your favorite resources for personal finance?
Canadian Couch Potato — it's a Canadian guide to index investing. I also read the Intelligent Investor book a few years ago. Not always an easy read, but great info.
What advice would you give your younger self about personal finance?
Keep saving! Stop buying so much junk!
Icons via Stencil.
Want more posts like this? These are some of the latest Money Snapshots…