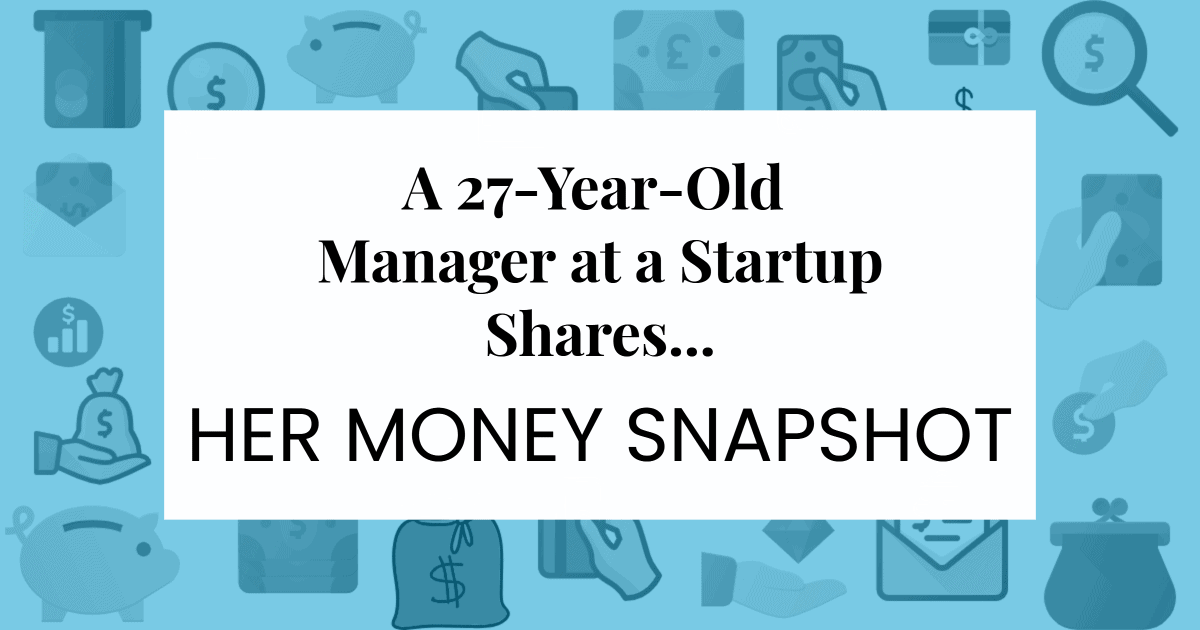 For today's Money Snapshot, we're talking salary, net worth, debt, and more with reader M in Washington, D.C., who works as in a management role at a tech startup. She noted, "I'm fortunate enough to be able to afford almost anything I want, but I don't make enough to afford everything. So if I splurge on a new designer pair of shoes one month, I'll trim back substantially on going out to eat or the like."
We got a few requests from readers to launch our own "money diary" series, so we've asked willing readers to fill out a form with lots of details about debt, spending, saving, and more! If you'd like to fill out the form and be considered for a future personal money snapshot, please click here to submit your response! You can see a PDF of the questions if you want to review them ahead of time. See others in the Personal Money Snapshot series here.
Please remember that this is is a real person who has feelings and isn't gaining anything from this, unlike your usual friendly (soul-deadened, thick-skinned, cold-hearted, money-grubbing) blogger — so please be kind with any comments. Thank you! — Kat
Name: M
Location: Washington, D.C., area
Age: 27
Occupation: Tech — I work in a management role in a startup
Income: $250,000 + $50–75k bonus + equity (various amounts — I work at a startup at the moment, so whether this turns out to be valuable is very TBD)
Net worth: About $800,000. This is a mixture of equity in my condo, stock/investments from previous jobs, retirement accounts, cash savings, and personal investment accounts.
Net worth when started working: Age 19 — I finished both high school and college early (college in two years) and started work. I don't remember my exact net worth at the time, but suffice it to say it was within $10k of $0. I graduated without any notable debt — no student loans.
Living situation: No partner; actively dating. I bought a home ~6 months or so ago, but it was extremely delayed new construction, so I walked into quite a bit of equity.
Debt
What does your debt picture look like?
Just a mortgage — $413,000 left (I have no intention of paying this off early)
Do you own or rent? How much do you pay monthly for your house or apartment?
My mortgage payment is about $2,000/month in principal & interest, $550/year for insurance, and about $200/month in property taxes.
How much money are you spending each month to pay down debt?
$2,000 (see above)
Home debt: Share your theories and strategies with us (including any that lead you to rent rather than own).
I own. I expect to be in D.C. long term, and it just made more sense. I bought in an up-and-coming neighborhood and have built a decent amount of equity that way.
How did you pay for school?
I received a full-ride academic scholarship. My parents made quite a bit of money but had this idea that I could work to pay for school, so I qualified for exactly $0 financial aid at the top schools I was accepted to and was facing $200k+ in debt. I opted to go to a state school that gave me a full ride, including housing, and to graduate quickly. As a PSA: If you're a parent and you make so much that your kid won't qualify for any aid, and you have deluded notions that they can pay for school by working because you did, check yourself. While I've done very well for myself, I definitely mourn the opportunities I might have had had I been able to attend some of the top schools I worked so hard to get into.
Have you paid off any major debt?
Just a car loan, but it was pretty routine.
Savings, Investments & Retirement
How much do you save each month or year in retirement vehicles like 401Ks, Roth IRAs, and others?
I max a 401k and backdoor Roth IRA each year.
How much money do you allocate to other tax-savvy investments/accounts like HSAs, 529s, FSAs, and others?
None
How much do you save outside of retirement accounts?
I contribute an additional $2,000–$5,000 (it varies widely) per month to savings and non-retirement investments.
Talk to us about investments. Do you have/use a financial adviser or planner? Do you have a favorite index fund where you stick everything? Are you doing a bond ladder or other asset allocation strategy (like value funds or target retirement funds)?
I don't — I do it myself. I generally lean toward index funds and give myself a bit of money in Robinhood each month to play with buying individual stocks.
Do you have an end goal for saving or are you just saving for a rainy day?
I don't, though I'd like to give myself flexibility down the road, and I think money does that.
When did you start saving seriously? How has your savings strategy changed over the years?
Pretty much since I finished college — so, 19. I started with building up cash savings and slowly got into investing.
What's the #1 thing you're doing to save money, limit spending, or live frugally?
I try to practice moderation generally. I'm fortunate enough to be able to afford almost anything I want, but I don't make enough to afford everything. So if I splurge on a new designer pair of shoes one month, I'll trim back substantially on going out to eat or the like (all pre-COVID references; right now I basically just wear Amazon slippers).
Do you have an estate plan in place? A trust?
I do have a simple will in place, and I have a healthcare power of attorney that designated my lifelong best friend rather than the default of my parents. They have very different religious views than I do, and I worry that would affect their decisions.
How much do you have in cash that's available today?
$10,000
How much do you have in cash that's available in a week?
$80,000 in cash, but I could always liquidate some safe Bond investments if push really came to shove.
How much is in your "emergency fund," and did you include it in the previous question?
$80,000, which is almost a year of living expenses (assuming I'm spending conservatively)
How much do you have in retirement savings?
That's specific to retirement? About $150,000. I've been maxing an IRA since I started working, and the same for a 401k when it's been available (not true everywhere I've worked).
How much do you have in long-term investments and savings (CDs, index funds, stocks) that are not behind a retirement wall?
$350,000 — some of this is personal investments, some is from stock grants and options from previous jobs.
If property values (home, car) are included in your net worth, how much are those worth?
My condo is now worth about $650,000 (bought for $550,000 in an up-and-coming area new — first put down a deposit almost two years ago).
Spending
How much do you spend on the following categories on a monthly basis?
Groceries: $400
Restaurants, bars, takeout, and delivery: $500
Clothing and accessories: $500. Varies widely though — sometimes $0, sometimes thousands. I've been trying to spend more per piece and buy less.
Transportation: About $150 between gas and insurance. Lower right now since I'm not commuting to work.
Rent/living expenses: $2,000 mortgage payment, $550/year for insurance, about $200/month in property taxes
Other major expenses: I have a dog and spent (pre-COVID) $400–$500/month between daycare and walks (and gifts for petsitters).
Health care – premiums and other costs: I'm really lucky — my current company 100% covers my premiums.
What's your spending range for these things? What's your average?
Vacations – Range: I play the points game aggressively, so usually have flights and hotels for free (I also, pre-COVID, traveled quite a bit for work), so I would generally get hotel/flight for free and then splurge on special meals while traveling.
Charity – Range of donations: $10–$2,000/donation
Charity – Average donation or giving amount: Generally do $200 or so per month in recurring donations, and then I'll do larger donations throughout the year. I spend a lot on animal rescue charities (a cause close to my heart and my rescue pup), so I'll do things like go in on a table for my favorite's annual gala.
Individual items of clothing – Range: $10–$500
Individual items of clothing – Average: $150 or so
Apartment or house – Current main residence: $550,000
Car or other vehicle – Range: $10,000–$40,000
Car or other vehicle – Current vehicle: Current vehicle is a bit under $40,000. It's the most expensive car I've ever bought, and it was a splurge for me, but I really enjoy driving it, so it's been worth it for me.
Fill in the blank on this question: I could save _____ if I stopped ______, but I don't because _______.
I could save $400/month if I stopped eating out, but I don't because I LOVE trying new restaurants (or restaurants' takeout at the moment…).
At any point in your life to date, has inheritance played a role in your money situation?
No — my parents refused to pay for college, and I don't expect an inheritance — they've been clear they're not leaving it to me.
How has your family provided financial support in your adult life, if any? (Or, do you provide support to them?)
Not after I left for college.
Money Strategy
Do you have a general money strategy?
I try to practice moderation. It's like eating — moderation in everything.
Time vs. money — do you spend money to save time (e.g., cleaning service)? Do you donate your time instead of money? What else does this phrase mean to you?
Absolutely spend money to save time, within reason. For me that's a dog walker and housecleaner (or was, pre-COVID). I'd imagine that'll expand as I get older and have children.
What are your favorite resources for personal finance?
I use Mint regularly, and I browse the Reddit Personal Finance threads quite a bit.
What advice would you give your younger self about personal finance?
Stop buying things on sale just because they're on sale! The amount of money I wasted shopping the J.Crew sale rack is… nauseating.
Icons via Stencil.