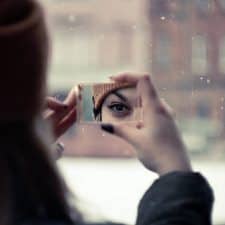 Harvard Business Review had an interesting article a few months ago about how self-awareness can be critical to career success, particularly as a leader, and I thought it might be interesting to discuss here. How self-aware are you, both internally and externally — and if you're lacking one of those skills, how can you become MORE self-aware? 
The author, Tasha Eurich, an organizational psychologist and executive coach, noted that in a large-scale study that she and her colleagues did, they found key differences between internal self-awareness (who you are, what you value) and external self-awareness (knowing how you are seen), and found that experience and power can hinder self-awareness because, basically, there are more "yes" people than no people at a certain point.
I thought it was really interesting that she suggested asking what questions instead of why questions, such as, "What are the situations that make me feel terrible, and what do they have in common?" (kind of like we discussed in our conversation about how to know whether your job is right for you), as well as "What are the steps I need to take in the future to do a better job?" instead of "why did I get a negative review?"
How about you, readers — do you find that self-awareness has played a critical part in your career success? For those of you who are more senior, do you feel like your external self-awareness has suffered as you've climbed the career ladder? What are your best tips for getting more self-awareness?