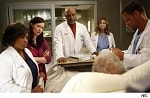 Should you visit coworkers in the hospital? Reader E wonders…
I'm a second year associate at a very small law firm (there are, essentially, five full time lawyers), and have worked very closely with one particular partner since I started with the firm. She found out a few weeks ago that she needs major abdominal surgery, and it's scheduled for next week. I like and respect her enormously, and she's been really fabulous to work for, and I want to get her something while she's in the hospital. I had two immediate thoughts: 1) flowers or 2) an iTunes gift card (she has an iPad) Any suggestions?

I'm also not sure what the protocol is on visits. She told me what the surgery is for, but I don't want to cross any boundaries or be intrusive while she's healing. Should I stop by while she's in the hospital?
I have only had two stays in the hospital, luckily, and one of them was for my birth (which I don't remember) and the other for the birth of my son.  For the second one — for my $.02 — I would most certainly not have wanted any visitors beyond family to the maternity ward.  I was exhausted (hooray for 34 hours of labor that started at 9PM), felt groggy and out of it, hated being confined to a bed and a hospital gown, and generally skedaddled out of there as quickly as I could.  (Possibly too soon — we left about 36 hours after my son was born, and I nearly fainted while walking out.)  But then I had a less than stellar experience at the hospital for a lot of reasons, so this may be completely unique to me.
Anyway: I think flowers and an iTunes gift card sounds really sweet, and perfect — and I might save a visit to her for when she's home and recovering.  I think my answer might be different if your colleague were so sick that the stay would be a very long one, or one that might not have a happy ending of going home to recover — but I think for a few days to a week in the hospital, no visit is necessary.
Readers, what do you think — have you visited, or would you visit, a close colleague in the hospital?  Would you want to be visited if you were going to be in the hospital?