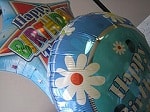 So: Today is my birthday. It's always a reflective time for me, and I have my little routines — and I thought it might be fun to talk about how we all like to spend our birthdays.
Personally, every year on my birthday (or as close to it as I can swing it) I take a picture of myself without makeup — I've been doing it since I was in my mid-20s. I like documenting my actual face and skin through the years, not hidden or modified by makeup. I like to go through the pictures as a slideshow, occasionally comparing different intervals (5 years apart — 10 years apart — etc). This may sound kind of harsh but thus far I've been happy with the routine (and, I guess, the way I've been aging).
I also get to eat whatever I want for my birthday, diet be damned, and I usually go for something fairly juvenile and unhealthy, e.g. a Big Mac. (For lunch today it's going to be a salami and swiss cheese sandwich, and I'm really looking forward to it.) Tonight, my husband and son will take me out. (I do like to celebrate the occasion with friends as well as just with my husband at a fancy restaurant, but I think I want it to be a tradition that the actual day-of is spent with just my husband and son somewhere chill.)
One of the traditions that is on hold for the moment is the midnight call — my parents and brother have always gotten on a conference line to call me at the stroke of midnight and sing Happy Birthday — but most nights the Griffin household is in bed long before that (see above re baby!). (Although… last night I was up late finishing Gone Girl, which felt indulgent and luxurious since I I never get to read for fun anymore!)
Readers, do you have birthday routines? What does your ideal birthday look like? Does your office recognize birthdays (parties, cake, permission to leave at a reasonable hour, etc)? 
(Pictured: balloons, originally uploaded to Flickr by velkr0.)