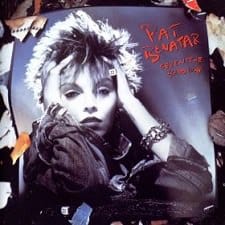 Ladies, let's have a rare discussion:  which music is your favorite? How important is music in your life — how do you find new music, and when is the primary time you listen to music? Do you like to listen to music while you work, or is it reserved for other times in your day? 
A while ago on a plane I found myself writing a long draft post for Corporette about music — specifically, my favorite songs over the years. It's a pretty navel-gazing post, so I figured, hey, I'll save it for my birthday, unless I really get desperate for a post idea.  Today IS January 28 — so you'll find that list below.
To answer my own questions above, though — music has always been important in my life, particularly for my moods, either to lift me out of them or give me that "you're not alone" feeling.  For example, I vividly remember being about 15 and having a huge fight with my parents, retreating to my room, and blasting Talking Head's "Road to Nowhere" on repeat — because it just felt so good to hear David Byrne wail "baby it's alllll riiiiiight." For some reason Leonard Cohen's song "Everybody Knows" was the soundtrack to my first semester of law school — on repeat, full volume in headphones. (Not dark at all, right?) I've also mentioned before on this blog about how during some unpleasant times at my law firm where I had to work with unpleasant personalities (yay for screamers!), I had Whitney Houston's "It's Not Right (But It's Ok)" as my wake-up song — every day, for months.
In terms of new music, finding new music for me is challenging. I use the Shazam app a lot when we're watching television, or else my brother passes along a lot of his music.  If I'm doing dinner prep I'll use the Amazon Echo to put Pandora or one of my iTunes playlists on.  I've had to winnow down some of my playlists to stuff I feel comfortable with the kids hearing (I don't exactly want to explain PJ Harvey's "30" or Marianne Faithfull's "Love in the Afternoon" to my eldest). That said, though, I've started listening to podcasts instead of music during walks or workouts with weights. So I kind of miss music, and would love to hear your ideas about how you incorporate it into your lives!  Anyway, some of my favorite songs (links either go to YouTube or Amazon):