Disclosure: This post is sponsored by NUMARI, but written by your usual friendly blogger Kat Griffin.
Everyone wants a dress that fits you like a glove — but it can be a struggle to put in the time needed at the tailor (to say nothing of the money or the guesswork involved with the initial purchase), and getting a bespoke dress seems intimidating and expensive. Enter NUMARI, an up-and-coming fashion brand with a triple threat: cute work-appropriate looks, an easy custom fit, and affordable price points ($160-$235 with free shipping and free returns). I also like that the two founders both actually have worked in conservative spaces — one worked in banking, consulting, and consumer products, while the second was a management consultant in the tech world. They sent me a few samples to look over, and I must say, I'm impressed with the quality and look.
The brand's most popular dress has been the Diagonal Block Sheath dress (with black base and camel accents, available for $160), and it's easy to see why — it's chic and classic, but of the moment also. They sent me the blue/gray version to take a look at, and I (of course) love the cornflower blue, which has a heathered look to it. The weight of the fabric is great — a nice thick jersey with a soft lining. There's a teeny side slit on the skirt, too, which for some reason always makes me think of fashions from the '40s. This dress was part of NUMARI's preview collection, which was fashioned by Project Runway's Bert Keeter. The Diagonal Block Sheath Dress comes in three color combinations: black/camel, blue/gray, and camel/black; each dress is $160. If you like the colorblocking effect there is also a sheath dress with a cool angular accent at the waist, and a dropwaist shift with a paneled look.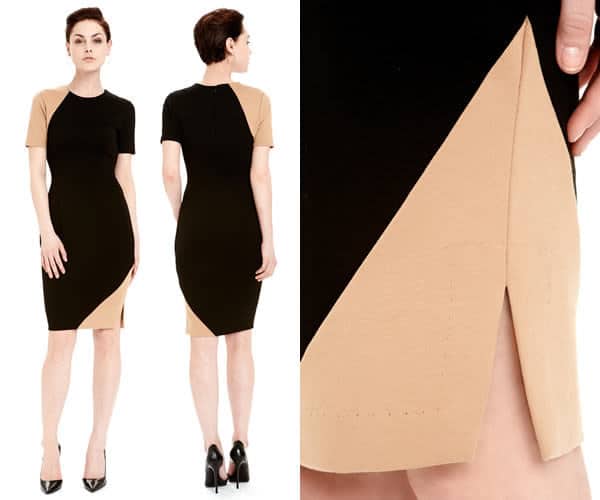 I knew the Agency Sheath was co-founder Arti Anand's favorite dress, and had looked at this dress a lot online and liked it, but was much more in love once I saw the dress in real life. I'm normally not a fan of lace for the office, but this is more like a textured knit — there's nothing boudoir or wedding dress about it. It's just a sophisticated, opaque, stretchy knit that goes really well with the jersey skirt. The Agency Sheath comes in four color combinations: "champagne gray" and black (pictured), black/camel, white/black, and white/camel; each dress is $160.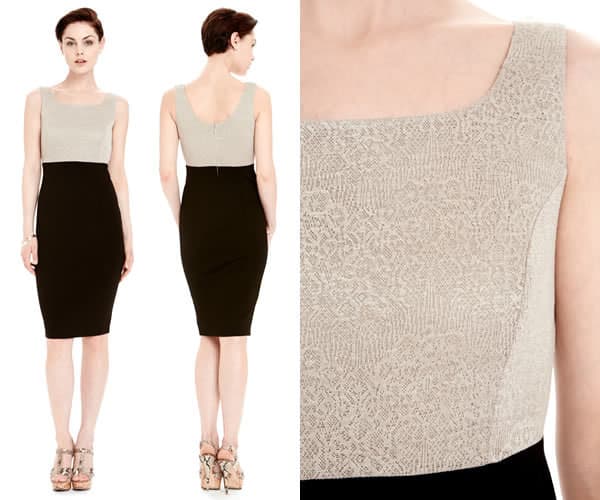 The brand also sent along the Maison Lace Sheath Dress, which has a gorgeous bright yellow underlay to it (at least, in some iterations it does — it's the dress pictured second from the right below). This would be a gorgeous dress for any evening out or an event. The dress is $235 and available in sleeveless and sleeved options, in white and black lace, with white and yellow underlay, for $235.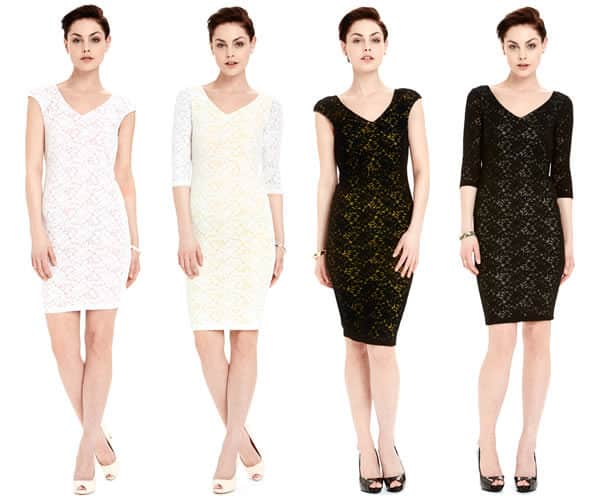 The measuring process sounds super easy, and I like that there are numerous options for how to measure (and easy ways to fix it if you don't like the fit once the product arrives). At NUMARI, every single dress can be customized for hemline (how long or short a customer wants her dress). When you select where you would like it to fall (let's say 2″ above the knee versus 1″ below the knee), the measurement refers to YOUR individual knee length, part of your body measurements that are captured during the order process. You submit your measurements before or after you place an order by following quick and easy video guides — the process takes just 15 minutes. (The team will even mail you a free measuring tape if you need it!)  If taking your own measurements sounds a bit daunting, the video guides are great — short, quick, and to the point — and if you need help with the process or selecting a silhouette, you can schedule a free virtual styling session on the "Style Help" page. If there's a problem with fit with your order, NUMARI will offer you an alteration credit and mark the gaps on your measurement profile so the next time it's right. (They can alter the original dress you bought, offer a new dress entirely, or offer a full refund. I love customer service like that!) Customers in the Washington, DC, Metro area and in New York City can request an in-person consultation for someone to take their measurements at their home or office.
Click here to see the other dresses in their collection, and sign up for their newsletter. You'll get first access to sales, events, and more. Questions? You can always email their concierge service at hello@numari.com for more information.