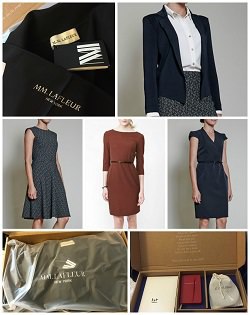 This is a sponsored post, but I really am delighted to tell you about my experience with MM.LaFleur. I'm impressed with their well-made, beautiful clothes, and I thought the Bento Box experience — where a stylist chooses and sends you a box of clothes to try on at home, for free — was smooth as well as fun.
But first, let's back up: here's what I knew about MM.LaFleur coming into this. There is some serious fashion and workwear cred behind the brand, which was founded by two ex-management consultants, Sarah LaFleur and Narie Foster, along with their head designer, Miyako Nakamura, formerly of Zac Posen and Jason Wu. Their mission: to take the work out of dressing for work. They make luxurious clothes with fabrics imported from Italy and Japan, ethically made (mostly) in NYC. Plus, a lot of it is machine-washable and wrinkle-resistant, and that's made clear right on the shopping pages (not just the product pages!), which I really like.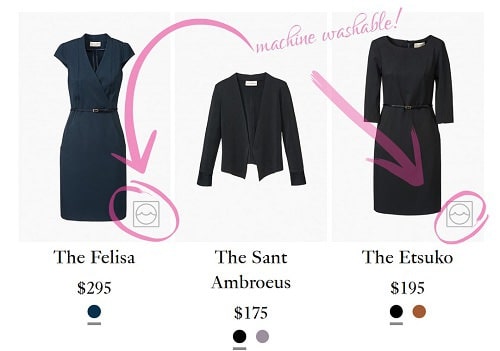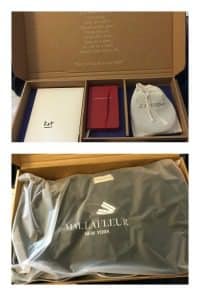 The Bento Box: While you can shop their online store yourself, they've recently started offering a "bento box" — you fill out a quick style survey, and then (based on your preferences and needs), you're sent a box of hand-picked, office-ready looks. You keep what you love and send back the rest.
My Experience: I filled out a quick survey online, and got a box of hand-picked items the next day in the mail. It was reminiscent of a bento box, with fun compartments (including one with a lovely red notebook — mine to keep — emblazoned with "Luck Favors the Brave"). My box contained several dresses (most below: Etsuko, Felisa, Toi, and Lydia), the Tribeca Skirt, the Angelique sweater, a silk scarf, and a luxe-feeling belt (Greenwich Avenue). I loved almost everything — the only miss for me was the skirt, which fit too long for my taste. I was really impressed with everything they sent — the fabrics felt lovely and had the right amount of stretch, the fit was great, and the construction was solid. There were no obvious workwear gaffes like a super deep V, high slits, or things like that, and instead there were intelligent details like pockets and washable fabrics.
A closer look at some of my favorites: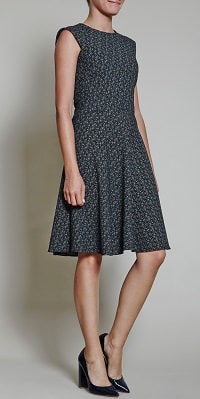 The Toi: First, the dress: it's a classic fit-and-flare style that's got just a hint of stretch. It's easy to see why it's one of their bestsellers. I was sent one in a "bold new fabric: subtly textured Italian jacquard inspired by Mencervetto marble." When I first laid eyes on it I thought it was a lace sheath dress — it was only upon closer look that I realized the pattern was woven into the cloth. I was pleasantly surprised by this — I'm not a fan of lace for the office, plus lace is a lot more delicate than the stretchy suiting fabric. The fact that this is a black and white dress (versatile!) with a pattern I've never seen before (exclusive!) makes it a winner. It's available in six colors, sizes 0P-14, for $265-$325.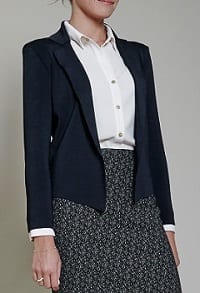 The Angelique:  I really liked this jacket cardigan, and thought it felt really luxe — there's a sturdiness to well-made knit jackets that was definitely evident here. I liked that it walked the line between a cardigan and a jacket, and I liked the seam detailing on the back. It's available on the site for $195, sizes XS-L.
The Etsuko:  Another of my favorites was yet another of their best sellers: the Etsuko dress, which was sent to me in a gorgeous plum. I was surprised (in the best way) to find that this was machine washable — I'd never have guessed that from the feel of the fabric. I liked the unobtrusive pockets, the comfortable stretch, the bust-friendly seaming. It's $195, available in sizes 0P-14, right now offered in black and "safari" (pictured) and available for pre-order in plum.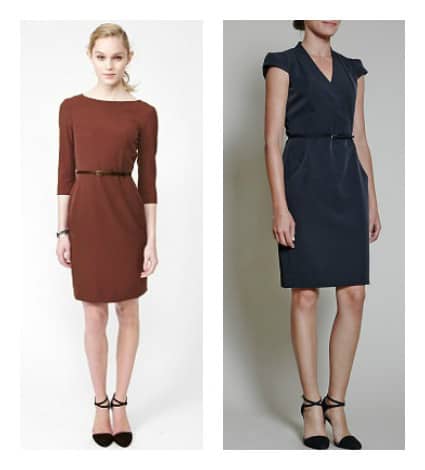 The Felisa: I liked this dress, and was surprised to find that this one is also machine washable — I never would have guessed that (again, in the best way) from the fabric. I liked the pockets, the cap sleeve, and the front V, which is supposed to be reminiscent of a wrap dress. This is the kind of thing that I would look at online and say, nope, that will look horrible on me — but I really liked it, even on my busty, hippy self. I would wear a camisole beneath it (if not layer a longer-sleeved scoopneck or the like beneath it) because while the V laid flat for me (and that's a big deal, considering I'm nursing and my bust is… impressive, shall we say), I would worry about it gaping open if I leaned forward or whatnot. The dress is $295, available in size 0-14.
Ladies, which is your favorite MM.LaFleur dress? What do you think of the "bento box" shopping concept?
Disclosure: This post is sponsored by MM.LaFleur, but written by your usual friendly blogger, Kat Griffin.