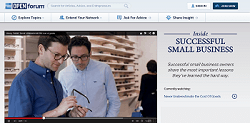 Disclosure: This post is sponsored by American Express's OPEN Forum, but written by Kat Griffin.
We told you last week about the cool new video series from American Express's OPEN Forum, "Inside Successful Small Businesses," taking a look at some of the hardest lessons small businesses had to learn. Today, I thought we'd take a closer look at the video from the team behind Warby Parker — and as a bonus for Corporette readers, there's a giveaway too — enter today to win a free pair of Warby Parker glasses!
I think it's a great look at a successful business, and how realism (more than optimism) has kept them in business — founders Dave Gilboa and Neil Blumenthal explain how they started the company while MBA students at Wharton, and how a professor cautioned them to never underestimate the cost of goods because it would eat into their margins and destroy their budget for marketing.
Now for the giveaway details!  I mentioned a few months ago how my husband and I were having fun with online eyeglass shops, and we've been thrilled with the pair my husband got from Warby Parker (the Theo, if you're interested).  There are a lot of fun new pairs since this summer (a few pictured below) — so I'm excited for one lucky reader to win a free pair of Warby Parker eyeglasses!
The Rules: In order to enter, choose YOUR favorite video from the series, and then Tweet (or make a public post on Facebook) the title of the video using the hashtag #sharingadvice.  (If you have room, please cc: @corporette!) One winner will be announced on Thursday, October 31, chosen by Kat and Random.org; the winner will get one giftcard to Warby Parker ($95 value). Please note that, due to legal reasons, this contest is only open to adult residents of the United States. The winners will have one week to respond to Kat to claim their prize or a new winner or winners will be chosen.