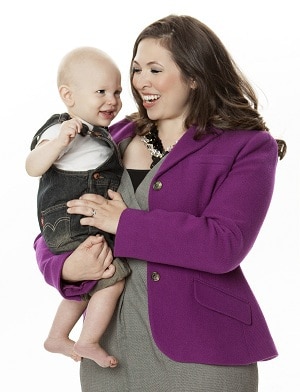 This is a sponsored post in conjunction with Macy's and Style Coalition. Pictured: My son J and me dressed in clothes from Macy's. On me: Lauren by Ralph Lauren Ansford Three-Button Wool Blazer, Jones New York Collection houndstooth dress (no longer available online), Charter Club necklace (no longer available online). On J: Levi's Baby Overalls and Carter's Baby Bodysuit.)
For a long while now, "back to school" to me has meant OCI week — interviews! Interview suits! Interview etiquette, from lunch etiquette and thank-you notes! — for all the law students, MBA students, and even college students doing on campus interviews. But now that I'm a mother I'm starting to notice the collective deep sigh of relief that seems evident on the mommy blogs I read (and even among my Facebook friends) for mothers as their kids go back to school, because a return to routine can be a great thing, even if it means everyone's a bit busier. (Or then there's this, being shared by multiple single friends on FB…) I'm starting to remember all that excitement I felt as a child to go back to school — to buy new clothes, to pick out the outfit for your first day of school, to pick out new school supplies, to review your schedule and wonder what great stuff lies in wait throughout the school year.
J is no where near ready for school (hey, I think he's bright, but not that bright) but when Macy's asked me to consider what back to school would be like for him, I had a great time. In prep for our "shoot," I got to hit Macy's with a gift card* to outfit me and J from head to toe. As a new mom who spends a lot of time on-line shopping, but almost never gets to physical retail stores, it was great to be back wandering the aisles, touching clothes, comparing colors, seeing the displays on the mannequin, and more. I wound up getting three colorful outfits for me for the shoot, and then a ton of stuff for J, primarily because it seemed like everything might clash. (I am by no means a professional stylist, but I've learned that shopping for a photo shoot is a bit different than shopping for Real Life — you want colors! and texture! and the tallest heels you can stand in.)
So the morning of August 27, J and I — with my brother graciously tagging along to watch J while I, you know, worked — went off to a studio in TriBeCa to have a fun photo shoot experience. (Uh, no, I can't believe this is my life either.)  We met the great photographer Ana Schechter, and I got to have some catch-up time with Yuli from Style Coalition, as well as Lauren from Second City Style and Gabriella from Miss Omni Media, both of whom were on set with their kids. Such a great time! Unfortunately J was pretty tired by the time we did our shoot, but he was a great sport anyway (aided greatly by my amazing brother, jumping around behind the photographer to help capture and keep J's attention and good mood). J thinks sneezes are hilarious so everyone on set was saying "A-CHOO!" to try to keep a smile on his face.
Here's a picture of J from earlier in the day, looking at the rainstorm happening outside in NYC: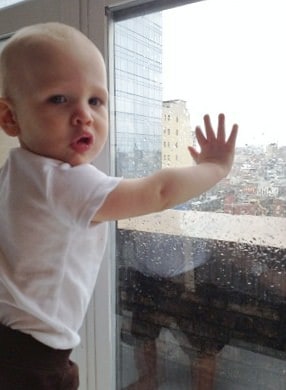 And here's a picture of the fun happening behind the scenes…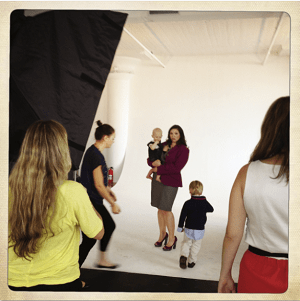 As part of this promotion, Macy's asked me to put together a Pinterest board of back to school stuff for when J is a bit older — so I got to poke through all the older kid stuff. I like to dress J in fairly classic clothes, with a slight preference for themes like space, dinosaurs, and sci fi characters, so I had a great time putting everything together. I particularly love The North Face jackets, Converse shoes, and Levi's jeans. (Follow Corporette on Pinterest here!)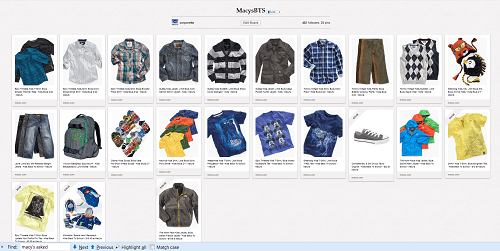 Now here's the cool part: you too can win a $1K shopping spree at Macy's with Redbook's Back-to-School photo contest — just Tweet a back-to-school photo of your children and tag it #SchoolSnaps.
Readers, what does "Back to School" mean to you these days? What are your favorite items to shop for at this time of year?