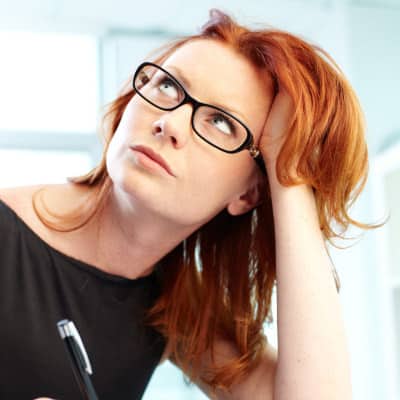 2018 Update: We still stand by this advice on how to help a coworker present herself better — you may also want to check out our guide to executive presence for women leaders. 
How do you help someone present herself well, without insulting her personality and other innate qualities? Reader A wonders…
I work at a pretty low-key office and am friendly with the other associates I work with. Recently, my partner (who I'm also close with) mentioned off-handedly that she wondered if, as a friend, I could help K (a lower-level associate I'm friendly with) with the way she presents herself in meetings and office interactions. K is super smart—which my partner knows and has also repeatedly told her/coached her—but she walks around dazedly, she takes a long time to answer questions, and in general, just seems a little out to lunch. My theory: She never wears her glasses or contacts, so she can't see—which translates into her looking kind of dazed in meetings. I don't want to hurt her feelings or seem like I'm pulling rank, and I'm just wondering if you or any readers have experienced something like this—I do want to help her, I know she's smart, and I feel like she has no idea how badly she's coming across to others.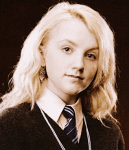 Ouch. I think this is a great question, and I'm dying to hear what the readers say, because I don't really have much. I think there are people who, for better or worse, seem to go through life dazed and confused (the fictional Luna Lovegood from Harry Potter immediately comes to mind). Obviously, not all of these people ARE dazed and confused — I know some brilliant people (including some very successful ones) who dance to the beat of their own drummer. I've always thought that a lot of these traits were innate personality characteristics, and I think the people who've succeeded (despite?) those traits got in great situations where they were understood and encouraged by their superiors.
Here are some suggestions, though, on how to help a coworker present herself better:
– Compliment her in her glasses. If you think it all boils down to her glasses, compliment her on them! "Oh, you look so smart in your glasses," "You must tell me where you got those glasses, I always think you look so great in them."
– Suggest some resources to her, such as this blog or "Nice Girls Don't Get the Corner Office."
– Express concern, give her friendly feedback, and helpful advice. I would time this after a meeting where she does concrete things that make her seem out to lunch, and then take her out to lunch or coffee. Try something like, "I wanted to check in with you because you seemed so out of it at the meeting — is everything ok? … As someone who really wants to see you succeed, I have to tell you you're hurting yourself when you do these things because one of your biggest jobs right now is to convey COMPETENCE." If possible, share some stories from your own past. "I know that I struggled with this too — college is this contemplative world, and the work place is faster-paced — you have to learn to be a little bit more organized, a little bit more Big Picture, and so forth."  Give her concrete suggestions of what she did to concern you, and give her concrete ideas for improvement.  "For example, when you couldn't find the section of the contract that we were all talking about?  It might have helped if you had read the contract a few times before coming to the meeting, so it wouldn't be so foreign to you."
Readers, what are your thoughts — is it appropriate to try to help a coworker present herself better?  Have any of you had to change the way you present yourselves to seem more competent and put together?  Have any of you had to sit through a meeting (either as the person giving the advice or the person getting it) — what went well and what would you have changed?
2018 Update: Stock image (red haired woman) via Shutterstock / Pressmaster.