This post is sponsored by Derek Lam and eBay, but written by your usual blogger Kat Griffin.
How fun: Derek Lam and eBay have just announced the first ever crowdsourced collection — and it's available for purchase now. In February, Lam debuted an exclusive 16-dress collection and then invited shoppers everywhere to view the collection and vote for their favorites. More than 120,000 votes rolled in, and five designs were actually produced. Prices range from $125-$295 in sizes 0-16 (which is a pleasant change from his normal prices, with blouses around $850 and dresses usually well over $1000), and pieces are (mais oui!) available in limited quantities.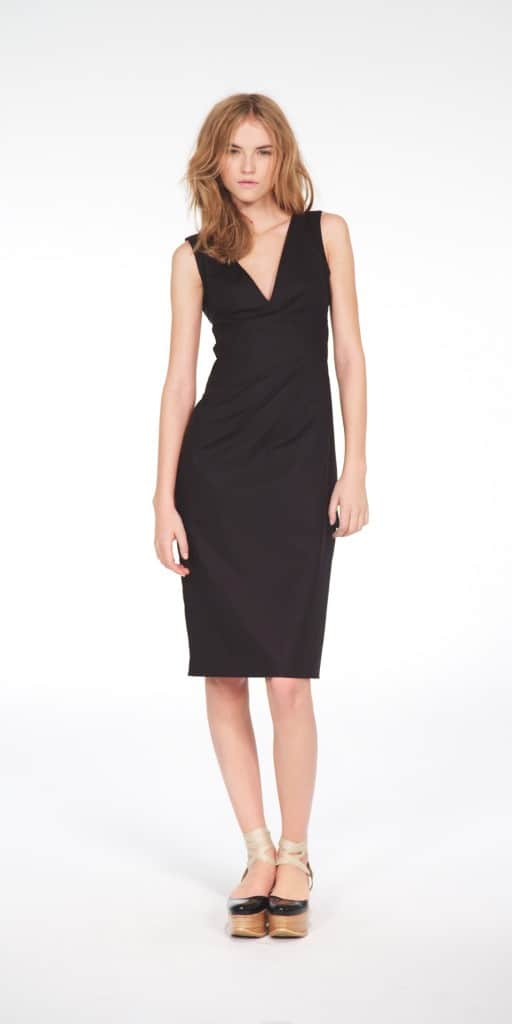 Personally, my favorite is the Shift Dress, which retails for $175 (pictured). I think it's a great dress for the office — your classic V-neck, a ladylike length, and even a nice curve to the armholes, if that makes sense.  I love that it's made of a black cotton poplin with a hint of stretch (poplin AND stretch? sign me up), and apparently there's a peplum back, as well.   It strikes me as a classic, to be worn with a blazer and pumps for day and perhaps with bolder jewelry and sandals for a night out.
Pictured below: I'm also a huge fan of the denim sundress for the weekend, as well (albeit perhaps with a tank top underneath? I'm never quite that daring with cleavage!) — it looks like a fun dress to pair with wedges and a sunhat and see the sights.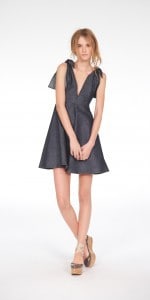 Readers, which of Derek Lam's 5 looks is your favorite?