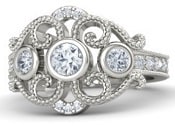 This post is sponsored by Gemvara, but written by Kat Griffin.
Jewelry plays a huge part in most women's working wardrobes — pieces can add color, personality, and sometimes even a dose of class. I tend to believe that jewelry should come in two varieties for the office — a) the best gemstones and the best metals that you can afford, or b) statement jewelry that may be real/fake/even plastic. I was blown away by the huge selection that Gemvara has — for example, my birthday gemstone (garnet) is next to impossible to find anything but the most basic pieces in — yet Gemvara had over 17,000 garnet earrings, rings, and necklaces, and each piece is customizable in terms of gemstone, metal, and even earring backing — it's very cool.
N.B.: Yes, Valentine's day is around the corner, but do note:  Significant others are not necessary for nice jewelry!  In fact, one of my favorite pieces (a right-hand diamond ring) I bought myself — and I think it was on sale because it was Valentine's Day! I was with my mother when I bought it and we kind of laughed and said, well, it's a testament to being a strong, single woman.  The diamond ring above is not my ring, but it is gorgeous — decorative and interesting and absolutely not an engagement ring, which is just what you want in a right-hand diamond ring.  It was $2510, now $1490 at Gemvara:  Autumn Palace Ring. They also have a ton of sapphire rings and emerald rings — I'm dying over this "vine cluster" emerald ring at right (was $2206, now $1421).  Vine Cluster Ring
Stackable rings are another favorite.  First, a slender band is great for days I'm wearing a second larger piece (a necklace, a brooch) but still want to add some bling to my hand — second, they're a lovely way to build your collection, because you can wear them by themselves or with other stackable rings.  If you definitely like the look of a thin, single band, you may even want to consider buying one that fits your pinky ring — if that's the only ring you're wearing on that hand it can be a delicate and fashionable statement. This garnet ring by Danielle Mershorer is lovely – I love the leaf motif.  Was $461, now $265 at Gemvara.  Stackable Leaf Ring
Gemvara has a wide variety of initial necklaces — and I'm loving these lowercase, gothic initial necklaces designed by Nick Blum, as well as the fact that you can customize which gemstone appears with them.  It's a great idea for a newlywed who took her husband's name (with a stone in the wedding colors), or a new mom (with her baby's birthday gemstone).  This one was $482, but is now $264 at Gemvara.  Gothic "G" Initial Pendant With Gem
Simple earrings are a must for the office — you should never have huge earrings that distract from what you're saying.  I like these teeny white gold hoop earrings — and I love that you can choose between four different kinds of backing.  They were $925, now $492 at Gemvara. 14K White Gold Earrings
Readers, what are some of your favorite gems? What are your favorite gemstone pieces?