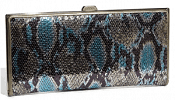 This started out as a post about how to pay off debt, and I realized as writing it that the huge question is thus:  When should you pay off debt? So let's talk about it.
As I've mentioned before, I generally led a charmed life (as far as debt is concerned) in my 20s — my parents paid for my education (thank you!) and I never had any credit card debt. In the past few years, though, I've gotten better acquainted with debt. First, my husband and I got married — when we met, he was finishing his master's degree at NYU, and he took out some loans to pay for the education; they are now my responsibility as well. Then, we bought an apartment in NYC — we kept our loan in the "non-jumbo" category, but we still now owe six figures to dear old Wells Fargo. (Pictured above: Lodis 'Cairo Diva' Clutch Wallet
, available at Nordstrom for $68.90 (was $138).)
I think there are three cardinal rules for debt.
1. Do what you can to avoid accumulating it.
2. REALLY do your best to avoid credit card debt. Live within your means, and spend less than you earn. Pay off what your balance every month.
3. For all your other loans, pay at least the minimum every month, on time — your credit card report will be severely affected if you don't.
Easy peasy, right? Questions still remain — how much should you be saving versus trying to pay down debt? If you're paying down debt, which ones should you pay off first?
Save For Your Emergency Fund. Life has a funny way of taking you by surprise, and you need to protect yourself — you could get laid off, or get in a car accident, or your roof could start leaking. The emergency fund is for all of this. In general, keep your emergency fund in a "you can get the money tomorrow" kind of account, not an investment vehicle like a CD (even the shortest are 6 months). As I've mentioned before, I use Mint to keep track of finances — one of the fun things about it is that it can tell you which banks are currently offering the highest interest rates. (We keep the majority of our emergency fund in a Capital One account. It takes a few days to transfer the money, but we also keep a small amount in our checking and savings account.)
Contribute to your 401K. I didn't start until I was around 27, and I kick myself for that — the effects of compound interest are so great that those first few years are crucial. There are some important, basic things to know about a 401K: Your 401K is a retirement savings fund — the money is taken out of your paycheck before you're taxed on it, meaning that if you think you're contributing $100 to your 401K each month, it would be more like trying to save $140 in after-tax money (or whatever rate your income is taxed at). (Um, don't quote me on those numbers.)  Your employer may match your contribution, up to a certain point — figure out what that is and contribute at least that amount, because it's basically free money. (You contribute $100, your employer contributes another $100.)  A few other fun points about the 401K: You can't touch the money until you're 59.5 65 (you can, but you'll be taxed on it and pay a 10% penalty before then), and you're only allowed to contribute a certain amount every year — right now the maximum is $16,500 (unless you're over 50, when you're allowed to contribute a bit more in "catch-up" money).
Next, automate debt payment. I read a great article on Simple Dollar a few months ago about how one of the easiest ways to pay down debt is to simply round up the minimum each month that you pay. Say your student loans are $754.85 per month. Pay $800 instead, and have the extra go to the principal. You won't miss the extra money, and it can make a big difference in the long run, as illustrated in the Simple Dollar examples. Do what you can here — for example, if you can round up that payment to $1000 every month, do it. We do this with our mortgage and the student loan payments. (I also like it because I frequently schedule payments a few weeks in advance, and I can easily remember how much money will be taken out.)
If after all that, you still have money left, then you have a few big questions:
Should I contribute more to my 401K?
Should I pay down more debt?
Should I be saving even more money?
Should I be investing my money in the stock market?
These are difficult questions, and I'm curious to see how you readers balance these questions and answer them yourselves. The answer for most people, I suspect, will be "all of the above" — if you have an extra $1000 a month, you may want to put another $250 towards your 401K, another $250 towards one particular loan, another $250 to your cash savings account, and another $250 to your investments. Factors you may want to consider here include what your long-term goals are (retirement? savings for a child's education? marriage? house?) as well as what your short-term goals are. If you have a short-term goal — I'd define it as being 1-2 years away — like a downpayment, or a desire to quit your job to launch a business or have a baby, you may keep accessible money in a savings account and lower your monthly debt load while you can by paying off specific loans so your monthly minimum is reduced. (In fact, many lenders will look at your debt-to-income ratio, and if it's higher than 28%-36%, you may have problems borrowing money for a mortgage or loan.)  Taxes are also a consideration — you can take a tax deduction on some things (like the interest you pay on your mortgage and student loans) but not on others (credit card debt); meanwhile you don't pay any taxes on what you contribute to your 401K until later. Another big factor is interest rates — what you're paying on your various loans, as well as what you're getting in interest on your various savings.
Readers, what factors do you consider when trying to determine whether to save or pay down debt with extra money?