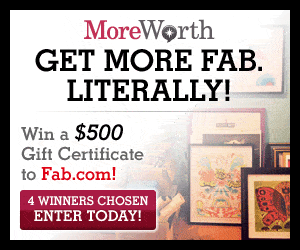 This post is brought to you by MoreWorth, a new personal finance newsletter for executive women, by executive women.
Posts in our Tales from the Wallet series always elicit questions from readers — where can they get more personal finance advice that goes beyond "make your own coffee" and "get out of credit card debt"? Check out MoreWorth, a new newsletter from the ladies behind DailyWorth. MoreWorth is aimed at women "living life on all cylinders." Twice-weekly emails bring you smart, pithy tip-offs about new products and services, curated by executive women for executive women — not to mention tips and ideas to invest in yourself through leadership, wealth-building, and lifestyle. Recent articles have covered hiring a financial planner, investing in green and eco-friendly companies, giving gifts when you're the boss, and buying timeshares.
To celebrate its launch, MoreWorth has teamed up with Fab.com to offer four winners a $500 gift certificate for Fab.com. If you're not familiar with Fab.com (click here for an invite), it's a flash sample sale site that features daily design inspirations and sales up to 70% off retail. $500 might buy you some gorgeous artwork, jewelry, furniture, rugs, or even whimsical things such as fire extinguishers with designs on them or yoga accessories with attitude. So here's the details…
To enter this contest, all you have to do sign up with your email address. Additionally, each person who enters will be provided with their own custom URL. You can share this URL through Facebook, Twitter, LinkedIn, or email — and for each person who signs up through your URL, you'll get an additional entry into the contest.
Once you sign up, you'll get MoreWorth — a twice weekly email targeted for the woman who is looking to get more out of life. MoreWorth emails discuss the hidden side of power, the edgy side of style, the sexy side of money–a compelling mix that influential women can use to enjoy a life that's rich with both passion and purpose. Sign up today!