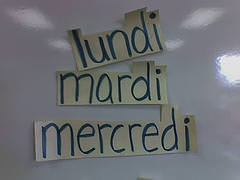 When is the best day to email someone? Reader M wonders about this when she's had a job interview and needs to send her follow-up email…
Imagine that I'm corresponding with someone about a job — potential boss, hiring manager, whomever. The ball's been in their court for a week. It's now Friday afternoon. Am I better emailing them today, or waiting until Monday? Or should I even wait until Tuesday, considering that Monday is a busy day? In general, what day of the week do you think gets the most results? Or is it more the wording of the email that counts?
For my $.02, the simple answer is Tuesday or Wednesday afternoon.
Pictured: Monday, Tuesday, Wednesday… originally uploaded to Flickr by gak.
Here's my reasoning:  No matter how the email is worded, the thing you have to realize is that
you are creating work for the recipient
. They may have to check the status of your application. Maybe they need to check the status of other applications. Maybe they need to check with the hiring committee. Even if it's a straight answer — let's say a no — they need to give your interview folder one final look-see before they reject you, and then write a politely-worded email. Any or all of these tasks will likely take more than the
two minutes
most people allocate to on the spot answers, which means this task (responding to your email) will end up on their to-do list. The other thing you have to realize is that a potential job applicant is sort of tertiary to someone's job, especially from the "year end review" perspective. Even if you're emailing someone in the hiring business (e.g., a recruiter), you rank below the people paying their salary and bills: the boss and clients. This particular task may even factor below the small, unpleasant tasks that one has to do to keep the office running such as ordering business cards, reviewing the last phone bill, etc. So let's look at workflow — when do people do small tasks that are low on their to do list? – Not Friday afternoons — they're eager to wrap things up and get out of the office. – Not Monday morning. In fact, not
any
workday morning — in my experience, most people spend workday mornings doing triage, filtering through the emails that have come in since you left work, figuring out which ones are urgent, and prioritizing the rest accordingly. I would avoid Monday afternoon as well because it's such a busy day. – I would avoid Thursday afternoons as well. While those may be OK for some people, but I think a lot of people have already started their "wrap up" process by then, which means your email may sit until the next time they're doing non-urgent emails — which might mean you'd wait until Tuesday afternoon. … which leaves us with my $.02 answer: Tuesday or Wednesday afternoon.
What do you think, readers — if you have the luxury of timing an email, what is the best day to send it? Particularly in Reader M's hypothetical job hiring scenario, when would you send the email?