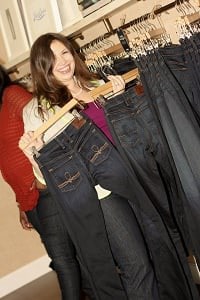 (This is a sponsored post from Lucky Brand and Style Coalition/Elle.  Pictured: me holding my favorite, the ridiculously soft Sophia bootcut.)
I don't know if I've mentioned this before, but: at one point in my life, I considered myself a denim expert. See, my first summer in New York I interned at a fashion magazine, Sportswear International, which at the time was primarily a trade magazine — and that summer they were producing the very first CD-ROM and Encyclopedia of Denim. Which meant that, as an intern, I got to learn a lot about denim. I learned about the history of it — it comes from Nimes, France (hence, "de Nimes"), and was used primarily as a sailcloth until cowboys started wearing it in the 1800s. I learned about the business side of it, and wrote profiles of all the big denim companies. I learned about the fashion side of it — which washes and cuts were popular, how it was different, and more. I even remember writing an article comparing denim advertisements in different countries. There's a quote, "You should know something about everything, and everything about something," and for a long time denim was my "everything."
So I was super excited when, on July 10, Lucky Brand and ELLE hosted an Exclusive Denim Fitting Party at their NYC showroom.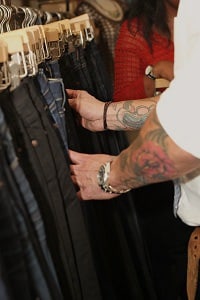 Denim, drinks, and a chance to hang out with some of my fellow bloggers? Awesome. (And snacks? Sign me up.) Lucky Brand thinks of itself as a "denim democracy," offering a fit for every body type — and after seeing numerous women try on different fits, I have to agree. The Lucky Brand Design team was on hand, including Nico Peyrache, to talk with us about denim, help us choose the best fit, fabric, and more.
Given my history, I of course asked what the latest trends were — Nico and other team members agreed that the newest thing in denim is making the fabric super, super comfortable. And that's definitely true for the Lucky Brand jeans that I tried on, the Sophia boot cut — ridiculously comfortable. I have yoga pants that feel harsher against my skin than these things. We had been asked to wear our favorite jeans to the event to use as an inspiration, and there was no contest — my jeans were much rougher than the Sophia ones.  (Pictured below: me trying on my Sophia pair, and Kristin from Fashion Style Beauty trying hers on.)
A bunch of the other bloggers tried on the Sienna cigarette jeans. I'm not normally a fan of the looser, rolled-up look in jeans, but this pair looked adorable on girl after girl. (Below: Dina from Eye4Style, and Wendy from Nitrolicious, both modeling the same pair.)
Readers, what is the most important element to you when you look for jeans? (Comfort? Style? Stretch?) How many different pairs do you own?