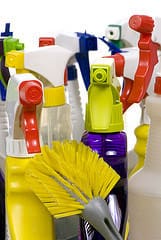 2018 Update: Links have been updated below; you can also check out our latest discussion on green cleaning products that actually work. 
So:  one of the big tips they give to working women is to hire a cleaning lady.  I get it, I really do — but I still can't bring myself to bring someone in more than once a quarter.  I've seen a ton of interesting Pins on Pinterest on how to keep your house clean (e.g., this one from The Budget Diet), and I know both Apartment Therapy and Real Simple have written about it in the past.  I know readers have discussed full-fledged "systems" like The Fly Lady cleaning system, as well as newer ones like, ahem, [email protected]#$ Your Habitat (which even has an app).  There are even games out there, like Chore Wars! (Pictured: Cleaning Supplies, originally uploaded to Flickr by SurvivalWoman.)
For my $.02: I've been doing my own modified version of a few different systems, but in general I'm willing to commit 15 minutes a day to cleaning.  For our 2-bedroom, 1.5 bath, 1000 sq ft apartment, this is what it looks like:
Monday: clean bathrooms (counters, mirrors, toilets) and kitchen counters
Tuesday: Swiffer floors, dust apartment
Wednesday, Thursday, and Friday: spend 15 minutes doing Thing That Bugs Me (maybe it's scrubbing the stove, or the shower, or decluttering the kitchen table, or cleaning a bathroom floor)
We tend to do laundry as needed throughout the week, and my husband (God bless him!) does most of the dishes and whatever vacuuming needs to be done.  I've found the perfect time for cleaning, for me, is after my workout, when I'm already sweaty and gross but want to cool down before I hop in the shower.  I'm starting to get more into nontoxic, green cleaners, and across the board I really like Method products over some other ones I've tried.
Readers, do you have a system for keeping your house or apartment clean?  If you have a partner or roommate, how do you split chores?