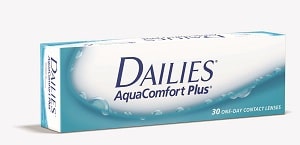 Disclosure: This post is sponsored by Alcon DAILIES ® AquaComfort Plus ® Contact Lenses and Style Coalition.
I've written before about how I'm a big fan of single-use contact lenses.   I think they're great! I don't have to remember how many weeks I've been wearing the contacts, I don't have to worry about when the lens care solution expires, and, especially for someone like me who only occasionally wears contacts, opening a new packet every time just feels fresher.   So I was thrilled when   DAILIES® AquaComfort Plus ® Contact Lenses asked me to round up a few more of my tips…
1. Single-use contacts.  No more worrying about cleaning and disinfecting!  I buy an annual supply and have boxes sitting in my closet.  DAILIES ® AquaComfort Plus ® Contact Lenses provide "a refreshing, new lens experience every day — a true daily disposable lens that releases moisture every time you blink."
2. Frequent computer breaks.  You can even download apps that help you remember when to blink!  I'm trying to get back in the hang of using the Pomodoro Method, so I just use my 5 minute break to blink really hard for a few seconds.
3. A bottle of water.  Guzzling water is great for everything — your energy, your appetite, your digestion, your skin, and yes, even your eyes.  Drink away.
4. Eye makeup for sensitive eyes.  My eye doctor once told me that Clinique had the best reputation for sensitive eyes.  You may also want to try a setting cream (such as Urban Decay's Primer Potion) or a cream eyeshadow.
5.  Eye cream.  A little bit of extra TLC for my under-eye circles isn't a bad thing… I put it on every morning after my shower and sometimes after removing my makeup as well.  (I've used fancier ones in the past; right now I'm just using L'Oréal Revitalift.)
DAILIES®, and the DAILIES® logo are trademarks of Novartis AG.


Ask your eye care professional for complete wear, care, and safety information.