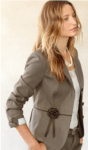 For busy working women, the suit is often the easiest outfit to throw on in the morning. In general, this feature is not about interview suits for women, which should be as classic and basic as you get — instead, this feature is about the slightly different suit that is fashionable, yet professional.
I'm always a fan of this color of suit.  It's much softer than a black or navy, but not quite as casual as a khaki — and the lighter color is so much easier to work with than a dark brown suit.  In general, I love pastels with brown, and I particularly like the rosy pink shell they've paired it with for the below picture (although the model's topknot is a bit debatable — I suppose that's a discussion for another time, though).  The rosette accent is interesting but not overly cute, and I like the grosgrain details on the skirt and jacket.  Nice.  The jacket (Banana Republic Rosette Blazer
) is $175, and the skirt (Banana Republic Grosgraintrim Pencil Skirt
) is $69.50. Not pictured: A set of matching pants (Banana Republic Martin Fit Textured Trouser
) for $98.  All three are available regulars, petites, and talls.