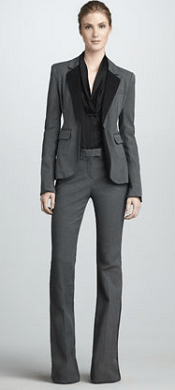 For busy working women, the suit is often the easiest outfit to throw on in the morning. In general, this feature is not about interview suits for women, which should be as classic and basic as you get — instead, this feature is about the slightly different suit that is fashionable, yet professional.
Wow, there are some ugly suits out there. (I've already seen an ikat print and a shiny metallic plaid
; I'm not sure it gets any worse.) Anyhoo: gorgeous suit from Rachel Zoe. I love those contrast lapels, all of the darts, and the general chic look. Two notes about the styling: first, is that not the best under-suit blouse you've ever seen? I love the way it looks under the suit jacket lapels. (Eleanor Shawl-Collar Top, $275.) Second: tailoring fail! Her pants look way too long to me. The jacket (Hutton Jacket, Faded Black) is $375, and the pants (Hutton Flared Pants, Faded Black) are $250.