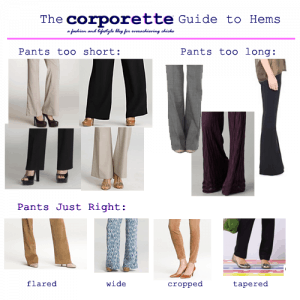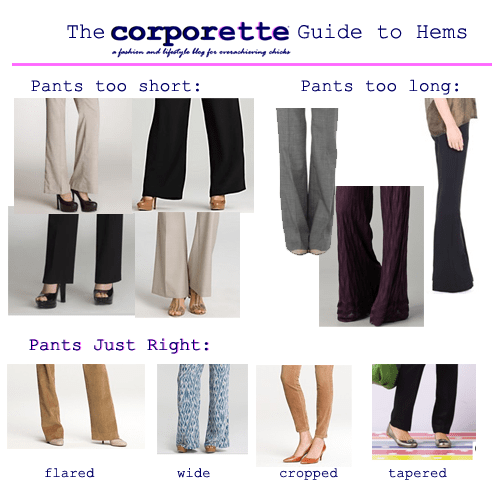 What is the proper hem length for heels — and how do you commute in shoes of different heights?
Reader Y wonders about flared pants, but I think she brings up a great point about hems and women who commute in shoes other than their office heels.
I'm a 25 year old working in Boston, usually in nice business casual offices. I don't need to wear a suit, but I do need to look good. I have a number of flared (not too heavily) in my wardrobe and I don't know if I can wear them to the office. Do you have any tips on length? What shoes can/should I wear (especially since I put on other shoes for the commute from and two work that are often flat)? Will they drown my height? If they can't be worn…can I get them hemmed or something? It feels like such a waste to have them sitting there.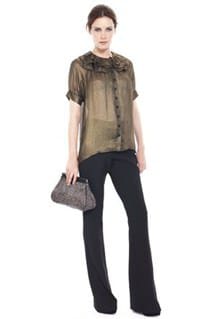 When I first saw this I honestly thought, oh come on, of course you can wear flared pants! But then I started wondering if perhaps this is just a peculiarity to my age (35), since I grew up seeing lots of flared styles (and still think the bootcut is one of the most flattering pant shapes of all time).
By contrast, skinny trousers and capris often look inappropriate to me — too 1950s, too Audrey Hepburn gamine to be taken seriously for the office. But then I thought of some of the extreme flared styles we're seeing right now and thought, ok, fair question — I dislike those because they're too 70s.
My advice is that if anything is too reminiscent of any particular era other than "right now," be careful about wearing it to the office. For example, the French Connection trousers (named "Galaxy Groove") seem a bit too, well, galactic and groovy for the office. (2021 Update: here's a similar option that's a classic.)
I think the really interesting question in Y's email, though, is about hem length, particularly once you factor in commuting shoes. I was just admiring someone's outfit yesterday, but for the fact that her pants were 3 inches too short for her shoes. Sigh.
As we head into spring, lots of people will be commuting in flats — some (clutch your pearls, ladies) even may commute in flip-flops. This definitely poses problems with pants, because (for most pants) your pants should be long enough so only about an inch of heel is left showing, and almost the entire front part ("vamp") of the shoe/your foot is covered, leaving just the toe part sticking out. I've just whipped together what hopefully will be a handy visual guide: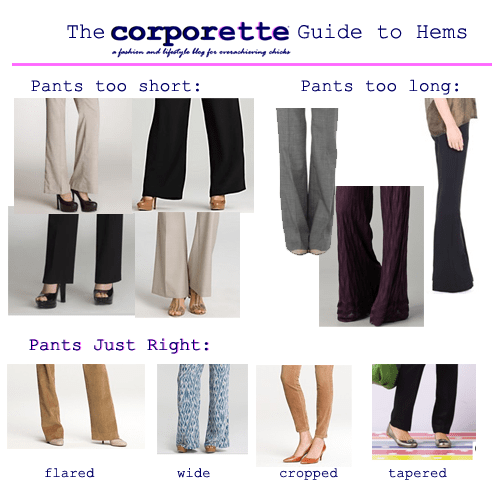 (It's amazing how often I see poorly styled pants and shoes on store and brand websites — in general I think J.Crew gets it right the most often.) I think that if the hem length is wrong, it's very easy to make even an expensive pair of pants look really cheap.
So how do you solve the commuting problem? I've never tried them, but I've heard of Zakkerz (which help you "hem" your pants on the go) — my own trick (and one other people swear by!) is to commute in wedges.
Another trick I used to use was to keep a pair of kitten heels at the office — the low, low heels were comfortable all day and frequently let me "keep" the same hem I wore with flip-flops.
These are some of our favorite comfortable low heels for work as of 2023… also check out CK Calvin Klein, Trotters, and Sarah Flynt!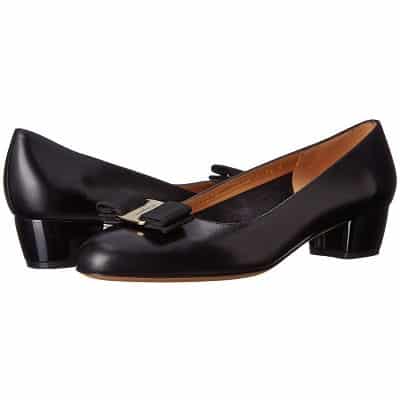 Readers, what are your thoughts on hems and commuting shoes? How do you deal with commuting in different shoes than you wear all day? Also, what are your thoughts on flared pants at the office?