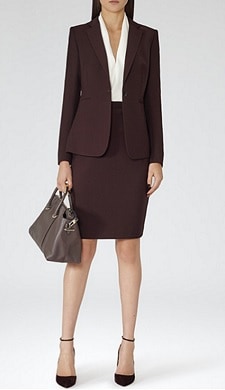 For busy working women, the suit is often the easiest outfit to throw on in the morning. In general, this feature is not about interview suits for women, which should be as classic and basic as you get — instead, this feature is about the slightly different suit that is fashionable, yet professional.
First: Love the skirt suit, love the color; classic but with a twist. But: the matching pants for this are tight and cropped, like so many other suits for sale right now, which will always look to me like a "fun suit." (I need at least straight pants, bootcut pants, or proper trousers for an "important meeting" suit.) The jacket (Reiss Ricca Jacket) is $445, the skirt (Reiss Ricca Skirt) is $230, and the pants (Reiss Ricca Trouser) are $240.
Ladies, what are your thoughts — what kind of pantsuits are your favorite for important meetings? Or do you default to skirt suits on those occasions?
Here's a lower-priced option and a plus-size alternative.