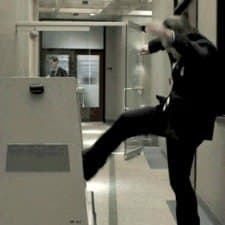 2017 Update: We still stand by this advice on how to deal with difficult coworkers, but you may also want to check out our more recent advice on how to deal with extreme coworkers. 
How do you deal with difficult coworkers, such as those who are overemotional or throw temper tantrums? Should the strategies for dealing with difficult coworkers differ if it's a small office versus a big one? Reader M has a great question about dealing with an assistant prone to temper tantrums:
I've seen several postings about crying at work, but my question is about how to deal with temper tantrums. I have been at my 9-attorney firm for a year. The partner's legal assistant also works for me. Several times, she has gotten so frustrated with the printer or other machines that she slams or throw things. Offering to help has not worked. How to respectfully deal with the inappropriate behavior? (This partner is rarely in the office, and the other does not get involved.) Or ignore it?
WOW. I've heard a lot about screamers in law firms (and have dealt with a few myself, even ducking a few flying redwelds and binders) but they were always high-level, super valuable employees — and I must say I always thought that was why they were able to get away with such behavior. Specialized knowledge, good relationships with clients, unique insights — but I've never heard of a fungible, easily-replaced employee throwing such tantrums and expecting to stay in their job. So I think you have to approach this with the presumption that she is NOT easily replaced, and if you make too many waves about this (as the new hire) then you will be the easier one to replace. A few quick ideas for how to deal: