2018 Update: The biggest Nordstrom sale of the year just started July 12, and you can see our full coverage of the Nordstrom Anniversary Sale 2018 here. Sign up for our newsletter to get our picks for workwear and beyond! (You can check out some of our more recent Nordstrom sale picks here!)
The below content is about the 2010 Nordstrom Anniversary Sale.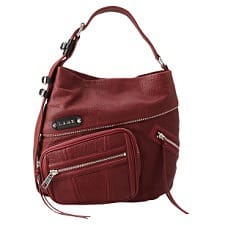 Something on your mind? Chat about it here.
This weekend, we're loving this great L.A.M.B. hobo (part of the Anniversary Sale at Nordstrom). It's the perfect red, and the angled pockets, open zipper teeth, and zipper tassles give it an edgy, almost rock-and-roll look. Love it! It's currently $239 (but the price will go back to $368 after the sale ends). L.A.M.B. 'Corsaire Seville' Hobo