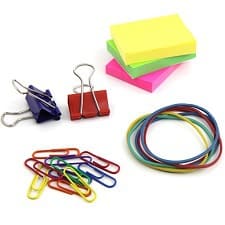 2017 Update: We still stand by these ways to repurpose office supplies, but you may also want to check out our most recent roundup of our very favorite places to get cute office decor!
Ladies, what are your best suggestions for ways to repurpose office supplies? Everyone likes to stock their office with the stuff they need — but from time to time you find yourself caught off guard and just need to make the best of a bad situation. We rounded up ten other uses for office supplies a loooong time ago, but I thought we'd expand on the topic and discuss today!
First up: ways to repurpose office supplies to help with fashion emergencies:
Clothing Hacks with Office Supplies
If you need a lint brush, try a Fed Ex mailing label or packing tape.
If you need to stop a run in your hose and don't have nail polish, try using a glue stick or white out (obviously best if the run starts somewhere hidden).
If you need to reduce static cling with pantyhose/skirt, try rubbing hand lotion on your hands and then smoothing it on your pantyhose.
If you need to fix a fallen hem, try double-sided tape or packing tape folded double, or try stapling your clothes with the solid bar on the inside — many readers noted the holes rubbed right out when the staple was removed later in the day.
If your pants are too tight after lunch (and/or you're pregnant), try a rubber band or hairband to help extend the waistband.
If you need to fix a broken zipper pull, try a paperclip.
If you need to fix a broken bra strap or shoe strap, try a teeny tiny binder clip.
If you're going desk to dinner and forgot to wear or pack a racerback bra, try a paperclip to make your regular bra a racerback.
If you need to remove a stain, try hairspray (for ink), or wet paper towels beneath your shirt with dry ones on top (especially for coffee stains).