Where can you get a great padfolio for the office? Reader N wonders about a decent padfolio..
I have been searching for a decent padfolio for what feels like ages. It seems like everything out there is clunky and overly masculine. Where can I find a professional, but feminine or at least sophisticated padfolio? Help!
I remember hunting for something similar a few years ago. I wanted: something zippable and expandable, something that could hold my phone if I didn't have pockets and suddenly needed to carry a box (or 3) back to my office.
I also wanted something that I could keep "packed" with a notepad, pen/pencil/highlighter, lip gloss, hand cream, business cards, tape flags, and post-it notes and just grab and go.
Also key: I wanted something that looked nicer than a redweld or a Trapper Keeper. I finally found it at Office Max or Staples, but I remember having to hunt for a while. If I were looking today, these were the ones that I would choose (below).
Readers, do you use a padfolio at the office? Whether you're running to a quick meeting or working away from your office (e.g., in a conference room) all day, what do you grab with you to go?
Psst: Check out some of our latest favorite office padfolios as of 2023, below! If you want something monogrammed, check out Leatherology, Levenger, or (for a splurge), Smythson. (Slightly different, but similar: This gusseted document and laptop holder from Leatherology is also lovely!)

This post contains affiliate links and Corporette® may earn commissions for purchases made through links in this post. For more details see here. Thank you so much for your support!
Some of the padfolios we originally featured include these…
This is apparently the #1 bestseller on Amazon in this category. I like that there's a removable 1″ binder, and that it has a handle. It's $21.00. Case-It Executive Zippered Padfolio
I've only bought a few office supplies from Levenger, but I've liked what I've gotten. I like that this portfolio comes in black, red (pictured above), or camel, and comes in a leftie-friendly version as well. It's $159. Ambi Folio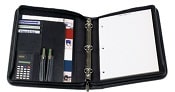 This Samsonite 3-ring padfolio is faux leather, but has 3 positive reviews. For $32.99 at OfficeMax, it looks like it'll fit the bill. (This is probably the more modern version of what I bought years ago.) Samsonite 3-Ring Zip Around Padfolio
There are a few more luxe versions, like these zippered pouches from Bottega Veneta, Salvatore Ferragamo, or Canali, but for my money I'd go for the lower-priced versions above. Readers, do you use a portfolio or padfolio around the office? Where did you get yours?
We are a participant in the Amazon Services LLC Associates Program, an affiliate advertising program designed to provide a means for us to earn fees by linking to Amazon.com and affiliated sites.