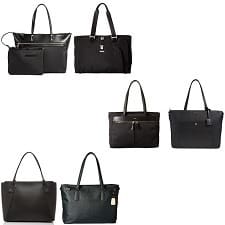 2017 Update: We still like these professional tote bags below (and many are still available!), but you may want to check out our most recent update of the best tote bags for work!
Sure, we all know what basics professional women are supposed to have in their closets, but if you're buying one for the first time or replacing one you've worn into the ground, it can be a pain to find exactly the right incarnation in stores. In "The Hunt," we search the stores for a basic item that every woman should have.
We haven't done a Hunt for professional tote bags in FOREVER, so I thought we'd do one now.  With OCI/EIW coming up we should discuss what makes a great interview tote, which I've always seen as a pretty major subset of professional tote bags. A great interview tote should:
be large enough to hold a folder that contains the absolute latest version of your resume
have structure to it — if you put it on the floor it will stand up or at least lean (so — while I love me my Planetes Longchamp bag, I wouldn't interview with it — it's also for this reason that most of these bags are east/west bags rather than north/south bags)
be mostly solid and lacking logos all over it (so in my book most Neverfulls, Goyard, and MCM bags are out — but a Neverfull in an Epi leather is a different issue)
have enough organization that you can ditch your purse and just carry the tote bag (or, put another way, it becomes your purse)
not be primarily as a laptop tote — unless you anticipate needing your laptop during the interview, you don't need the weight and the added stress of keeping tabs on your bag (but see our laptop tote roundup if you're looking for one)
I once joked that if you're just looking for something to shuttle papers to and from the office, most of the rainmakers I knew carried boat bags, or at least the tote bags one gets for donating X dollars to charity or attending a conference, suggesting it was all part of "what your tote bag says about you." Now I think it's just because those suckers add up over the years and they're perfect for sticking in your office closet! (Although I will note – an LL Bean rep recently told me that this bag can hold up to 500 pounds because it was designed for carrying ice blocks through the winter. Ice blocks, huge binders, whatever, right?)
So ladies, let's discuss — do you carry a tote bag as your regular purse, or only if you're interviewing or otherwise carrying a folder? What do you look for in a professional tote bag? Do you prefer hand-held briefcase/satchel styles, north/west styles, east/west styles? Leather, nylon, or coated canvas? Have you bought any great ones lately, or do you still carry any older ones?
First, a roundup of some general categories:
Best-Selling Work Totes
Some of the best selling work totes of all time are linked to in our Hall of Fame styles mentioned above — here are a few of those, pictured, ranging from $168-$298: 1 / 2 / 3 // 4 / 5 / 6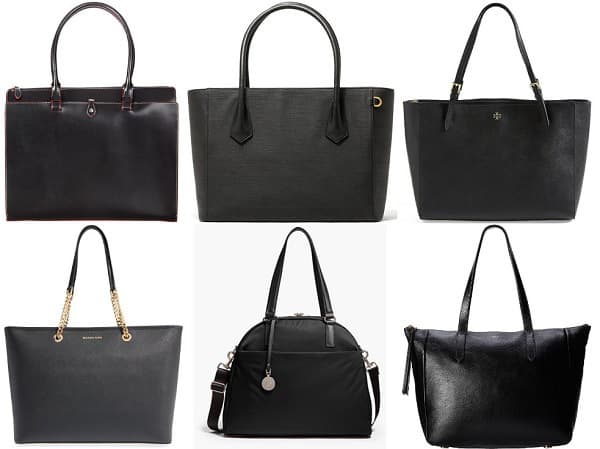 Featured Work Totes
Best-selling, classic styles are great, but sometimes you want to know what else is on the market today.  So: six bags we're liking today: