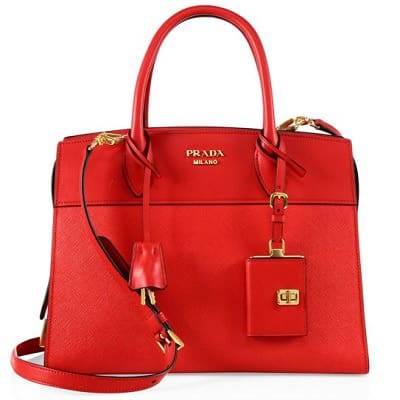 2018 Update: Links have been updated below — please also check out our most recent roundup of work bags for women!
Which are the great, professional, useful totes? If you always carry around a ton of stuff, should you downsize to look more professional? Reader A is about to make her first "really expensive purse purchase" and needs advice…
I would love to get your advice on my first really expensive purse purchase. I currently use a big leather tote day-to-day that can fit my whole world, and as an attorney and a New Yorker, I carry around a lot of stuff. Binders, umbrellas, water, heels, hair and makeup, food, pens, nail file, gloss, fan, gloves — EVERYTHING fits into my trusty Mary Poppins bag. That said…I'm ready to upgrade to something more sophisticated. I hate walking into a meeting or conference and having my purse either brimming with crap or slumping over in a sad black puddle (it used to stand). I have my eye on a Prada Saffiano tote, which fits can fit a slim computer or a small number of papers but is definitely not a carry-all. Will I regret downgrading to a smaller bag for my day to day use? I'm so accustomed to being a bag lady that I am scared to make an expensive commitment to something so much smaller. But it is much prettier, much smarter, and far more put together.
First: congrats on making your first really expensive purse purchase — it looks like there are a number of Saffiano totes available, but just for fun, let's say you're talking about the Prada Saffiano Lux Large Top Handle Bag, available at Saks for $2150. My own first expensive purse purchase did not go so well, and I hate to say it but I see similarities between your pending purchase and my purchase. See, I have the LV Alma bag in black Epi leather. I loved (and still love) the way this thing looks: but if I carry it two days a year it's a good year. I know I'm going to grow with it, but the problem is that it's a satchel bag, and I'm a hardcore shoulder-strap kind of gal. Should I ever find myself in a car culture again (e.g., the suburbs) I can't wait to bust this baby out — but right now, schlepping around NYC and having to carry, by hand, my very full bag, is not in the cards. (And yes, I know it has a messenger-like shoulder strap, but… nope.)
So: in my mind, this is not an insignificant question — whether a woman can change her long-established purse habits habits in order to carry a great bag. And I do think it can be done, but I think you should really assess why you have those habits — and what you will do to change them. For my $.02, I think the woman who carries multiple large bags, no matter how expensive they are, looks worse (more scatterbrained, more indecisive) than the woman who carries one XL bag, even if it's just nylon. (Although: I think if you carry one L/XL bag and one S/M bag you can get away with it.) And if you never carry the expensive bag, you'll kick yourself repeatedly (trust me here). Downsizing what you carry may not be a big issue — for example, I've gone from having a huge bag full of stuff to basically just a wallet/cellphone/lipgloss kind of existence, moving from diaper bag to clutch to handbag, since my son was born. Changing from an XL shoulder-strap tote bag to a L hand-carry satchel/tote might be a bigger deal because of lifestyle issues though, as it was/is for me.
My best advice: get a big nylon tote bag that you feel comfortable and professional carrying. It'll be lighter, you'll save your back, and you can put some of the big money into a great wallet or wristlet to go into the big bag (or lots of money into a small/medium purse). We just covered weekender bags (probably too big for you) as well as interview bags (probably too small for you) so I'd encourage you to look to two other options: either Lo & Sons OG bag (so called for overnight/gym, pictured — it's a nice, durable bag with TONS of space and lots of organization – my review here; it's also a perpetual reader favorite) or the Longchamp bag that everyone has (no organization to speak of, but it has a certain cache to it — and, whoa, now available in leather). (Or, of course, you can always donate money to a charity/attend a professional conference and then use that tote bag, which is what most VIP women I know actually do.) The bonus to not spending a lot on the bag: if it gets worn out or you find you need multiples because you leave them places (e.g., one to leave at the office, one to leave at the house, etc.), you can happily replace the bag or buy multiples.
Or, alternatively, spend a bit of money on a less expensive, smaller bag the size of the Saffiano tote, and see how you like it.
Maybe I'm too negative because of my own experience — readers, what do you think? Should someone who always carries an XL bag invest money into an M/L bag? Do you agree with me that the lady carrying multiple XL bags (or multiple L bags) looks a bit frazzled? Which are the best Mary Poppins-sized tote bags for the office?