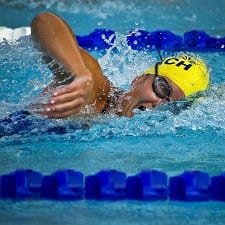 2018 Update: We still think this is a great discussion about finding time to exercise, but you may also want to check out some of our other more recent posts on exercise and busy women, including 7 tips to help you hire a personal trainer. 
A regular exercise regimen and an intense job are not easy things to reconcile — so how do you fit exercise into a busy day? We've talked about mid-day workouts, some of my favorite exercise DVDs, and generally talked about how to fit exercise into a busy day, but not in a while — so I'm thrilled to welcome today's guest poster, the blogger behind Sweet Hot Justice, who is doing the impossible and balancing a busy job as in-house counsel with a pretty awesome exercise routine. I've known of her since we both started anonymous blogs Way Back in '08 — but we only just recently met in real life, and she's every bit as awesome as her hilarious writing would make you think she might be. Please welcome Maria de Cesare of Sweet Hot Justice, giving her own excellent pointers for finding time to exercise when you have an intense job! – Kat.
I hate working out. Not "I hate working out" as in "Gyms aren't my thing but I cherish my daily 5-mile jog." No. I mean "I hate working out" as in "After working 60-hour weeks, I'd rather do almost any other thing in the universe, including sitting in a room and staring at my hands, than work out." Also… I'm not exactly what you'd call an athlete. I have a job that involves lots of aggressive sitting. I hate sweating. You'll never hear "Oh my god, Soul Cycle is the best thing on Sunday mornings!" come out of my mouth. You know what's the best thing on Sunday mornings? A three-hour champagne brunch followed by not going to Soul Cycle.
So, why in the world should you listen to me for tips about how to make fitness fit into your life? Well, because if I can make it happen, believe me, you can make it happen. A few years ago, after leaving a Big Law job and ignoring my personal fitness for years, my body just felt off. My back always hurt. My clothes didn't fit the way I wished they did. I just felt like a weak, disconnected mess.
But now, after stumbling through a few fits and starts and finally finding a fitness routine that works for me, I feel stronger and more in sync with my body than I ever have. And now, even when I'm tired and cranky and absolutely dreading the idea of schlepping to the gym, I know that I'll feel 100% better after I do — and that keeps me coming back.
So, I know that you don't have time to work out, I know that there are a million other things you'd rather do with your all-too-precious time and money — believe me, I'm right there with you. But, if you're looking to jump on the fitness rainbow, keep these general thoughts in mind when struggling with finding time to exercise with an intense job: