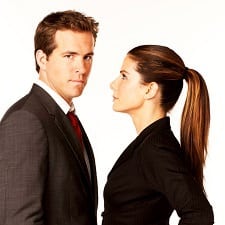 2016 Update: Check out our latest discussion on whether ponytails count as professional hairstyles. 
Recently, we were watching the trailer for the new Sandra Bullock movie, The Proposal, and were struck by the fact that, yet again, Hollywood portrays a savvy business woman wearing a high ponytail.  Which brought up a few questions in our minds — are high ponytails appropriate?  What about low ponytails?  Sweet Hot Justice amusingly called it a "welfare-mother ponytail," and we've heard of some girls who have a limit on the number of days a week they can wear a low ponytail at the office — yet another, curly-haired friend of ours said she felt it made her hair look neater than if she wore it loose and always wears a ponytail.  Similarly, some of our friends insist a low ponytail makes them look older and more professional, while other friends worry the ponytail makes them look younger.
For our $.02, our dislike of the high ponytail has always been more about comfort — the elastic always starts to make our head and our hair hurt after a while.  Also, that's our general look when we work out, which makes it seem too… depressing, given that working, working out, and sleeping are the main things we do, with a few nights of "going out" thrown into the mix, as well.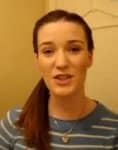 As for the low ponytail, we have no problems with it.  It's certainly our look of choice after the secretaries have left for the day and we're settling in for a long night of work (that or a very messy bun) — but that said, as long as the ponytail is neat we see no reason why women can't wear it as part of their working wardrobe.  Personally, both as a way to deal with layers and as a way to add some volume to the look, we've been a fan of what we've always thought of as a half-Gibson Girl ponytail, twisting the hair back around itself, as better explained in this YouTube video by xFLYNNIEx (end look pictured at right).  But then we worry that we've looked a bit like John Adams or something .  (We've worn it with the ponytail in the back, not to the side, as she does.)
What do you guys think?  Are ponytails acceptable? Should there be a limit on days, or on timing that you wear it?  Is there an age limit on certain styles, in one direction or the other?  Are there any comfortable elastics you use?  What about the side ponytail — they're definitely coming back.  Is it inappropriate to be worn at an office where people inevitably have actual memories of the '80s? (Should we run a poll on this? Let us know in comments.)