Ah, golden handcuffs — long after some people know they should quit their high-paying jobs, they stay on because their lifestyle costs too much (usually due to a combination of rent or mortgage, plus debt). How do you break free from the golden handcuffs, and adjust your finances to your new lifestyle? Today's guest poster, Ruth Moore, has some tips for just that. (Pictured below: Pochi coin purses, available at Kitson for $12 each.)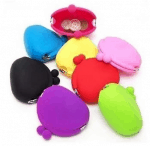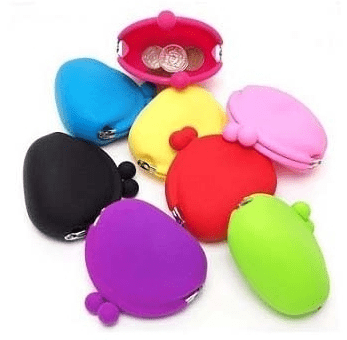 A couple of years ago, I quit my job as a litigation associate at a large law firm in midtown Manhattan in order to attend a conservatory of theatre arts (acting school) full-time. I'd always wanted to do something creative and watching TV had made me think that law was the perfect choice for me. By the time I found out that I didn't really want to be a lawyer, just an actor that played one on TV, I was already living in an expensive high-rise rental in Manhattan and encumbered with a hefty debt from student loans. Fortunately, after five years of accidental lawyering, I was able to save up enough money to quit and pursue my dreams.
The transition from making a mid-level lawyer's salary to not making any money and paying tuition was a dramatically humbling one. I like to tell people that I am my own trust fund baby, except that the trust is very, very, very, very, very, small. Although there were some second-career students in my small theatre class, most of them were in their early twenties or even teens. I showed up for my first ballet class with a leotard that was extremely high-cut and bright red underwear that was extremely not; suffice to say, I looked like a baboon. I remember sticking my head out of the sweaty dance studio during that embarrassing class and seeing the bustling highrises across town where I used to have my own office and administrative assistant… an entirely different life!
Financially-speaking, breaking free of the "golden handcuffs" also had its own set of ramifications — some fun, others, less so. But I am happy to report that although "less money, less problems" isn't exactly the corollary of "'mo money, 'mo problems," I have been able to make do with less in one of the most expensive cities in the world. Predictably, I stopped taking cabs and bought a monthly subway pass, I learned to cook and ate out less, I drank more beer and less martinis, I said good-bye to my nail salon and hello to Sally Hansen. As someone who loves clothes, and living in a city like New York where there is a constant barrage of women wearing the latest designs, I realized that I had to figure out some innovative ways to keep my wardrobe budget in line without giving up on my style horse hobby.
1. Heighten your standards.
It may sound counterintuitive, but when I was making more any money, I had lower standards for purchasing clothes and accessories. If I looked good in two out of three angled mirrors in the changing room, I'd probably buy it. If the arch of the shoes didn't perfectly follow my natural arch, but was otherwise what I had been searching for, I'd get it. As a result, I ended up with a lot of mediocre pieces in my closet, and a never completely satisfied shopping list. Now, I am much more firm about my "standards to buy", and I've finally accepted that scouting for the perfect black leather handbag can take a very long time. I regularly reject items for not fitting perfectly, for having an unruly fabric, for not having all the features that I was looking for. This has cut down on a lot of unnecessary purchases.
2. Reduce your online shopping.
Visiting sites such as Gilt, Yoox, Rue La La, and the myriad shoe sites out there were a daily indulgence for me, and I didn't really scrutinize my purchases because I often felt the adrenaline of these "flash sale" sites where, if you hesitate on an item for even an extra second, it will get sold out from under you. In order to resist the temptation of online shopping, I removed myself from daily email lists from these sites, and when possible, subscribed to their weekly mailings. This way, I naturally forgot about checking on these sites, and now might go on them on a monthly, instead of daily, basis. Online shopping is fun and you can often score really amazing deals –but at my current budget, it is too expensive to maintain as a habit. If I do make an online purchase, it is much more deliberate and more of a special occasion.
3. Recognize quality over labels.
After ditching the online shopping habit, I reaquainted myself with brick and mortar stores such as Uniqlo and H&M. Some might argue that these stores skew a little younger, but there's such high turnover, and so many different pieces, that I have not been reduced to dressing like a teenager. I have also been able to find great summer tops at Target and well-made underwear at Marshall's and Century 21. The main cost here is probably time, and you do kind of feel like you're helping a hoarder sort her clutter, but well-fitting, durable pieces do exist at these establishments. In terms of quality, although I don't quite understand the economics of it, I have been able to find a lot of durable, well-fitting, well-made pieces at H&M that are on par with, or even better than the fancier labels I was courting as a lawyer.
4. Transcend trends.
I used to be a sucker for trends. Studs? I'll try 'em. Platforms? Give me five pair! But being on a student budget, I no longer respond to every craving for the latest garb. Just like how you're suppose to wait twenty minutes before you can tell if you're full or not, I make myself sit back and evaluate whether I even like this trend or not.
5. DIY.
If I like really like a new trend, I try to see if I have anything that I can do to follow it. For example, last fall all the stores and fashionable people were wearing those 1990s Elaine pants –wide on top, cinched by the ankle. I saw them at Zara and really wanted to get a pair, but then I realized that all I had to do was roll up my pants in a special way to make them narrow at the ankles. If I can't DIY a trend, I tell myself to wait a few months. If I still like the trend at that time, then maybe I'll buy it.
6. Approximation.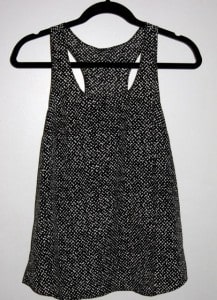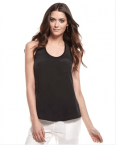 Even if you decide to buy something on trend, there is no reason you need to buy it from the most expensive store carrying that trend! For instance, I really liked the loose satin tank tops that I saw girls wearing in the city. Instead of buying them at JCrew or Club Monaco, I found them at Target for under $20 each. With trial and error, I've learned that there are certain things that you can spend less on and still look great, such as jeans, t-shirts, willowy drapey tops, shorts, summer dresses. (Pictured: Ruth's own tank, at left, which she bought as an approximation of this Alicia tank from Joie, available at CUSP by Neiman Marcus for $128.)
Readers, have you had to downsize your budget? Do you feel constrained by golden handcuffs?
(L-2)
Interested in writing something similar for Corporette? Check out our guest posting guidelines.