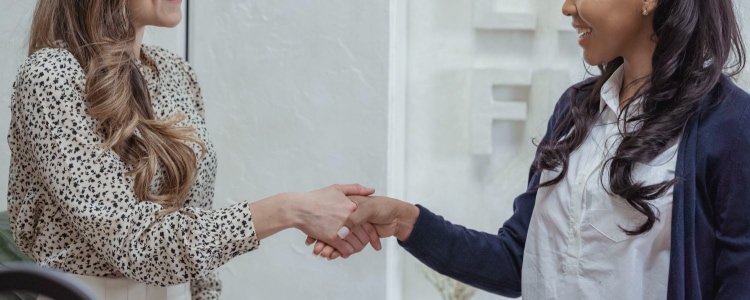 Reader A, a CPAA with 12 years of experience, writes with some great questions…
How does one negotiate a good compensation package? I have only ever worked for local firms. The salary data online seems to reflect "big 4" or equivalent pay scales. I have talked to a few headhunters and they all seem to think I should be making more than I am. What do I do when a prospective employer asks point blank what I am making now? I don't want to lowball myself.
This is a particularly apt question in light of this post on the Bucks blog, calling attention to another blog posting wherein the author admitted to "bumping" her current salary up $5,000 when her interviewer asked what she was paid, and then asking for another $5,000 when they offered her the job with a "matched" salary. Long story short:  it's illegal to lie about your salary in job interviews! So… don't try that tactic.
This post contains affiliate links and Corporette® may earn commissions for purchases made through links in this post. For more details see here. Thank you so much for your support!
We are a participant in the Amazon Services LLC Associates Program, an affiliate advertising program designed to provide a means for us to earn fees by linking to Amazon.com and affiliated sites.
Our recommendation would be twofold. First, let's say that you're at Company X. if you can get TWO job offers from Company Y and Company Z, you can sometimes play them against each other — we would probably avoid naming names, at least unless pressed, and see if company Y will increase your salary to match what company Z is offering. Don't leave Company X out of the mix, either, unless you're looking for a new job because you hate your old one — rather than quitting outright, talk to the Powers that Be at Company X and say, "Company Y has offered me $__ to jump ship!" And see if Company X will match it… and then go forward from there.
A second recommendation would be to really look at what your lower-salary job is actually giving you. Do you get four weeks vacation? How are your health insurance benefits? Are there other perks, like discounts to a local gym, or on-site daycare? We would factor that into the discussion, once the interviewer raises the issue. For example: "I currently make $__ in dollars, but there are a number of perks that I've enjoyed for years and that you don't offer. To be honest, I would probably put a pricetag of $5K on those perks." Be totally honest — and KNOW what perks the interviewer does and does not offer. In fact, this discussion might be a good time to assess those intangible perks.
This great article from CBS MoneyWatch also suggests classics like asking for a signing bonus, a performance bonus, stock options, or asking for more perks.
Readers, what are your best tips for salary negotiation? Any great victory stories to share?