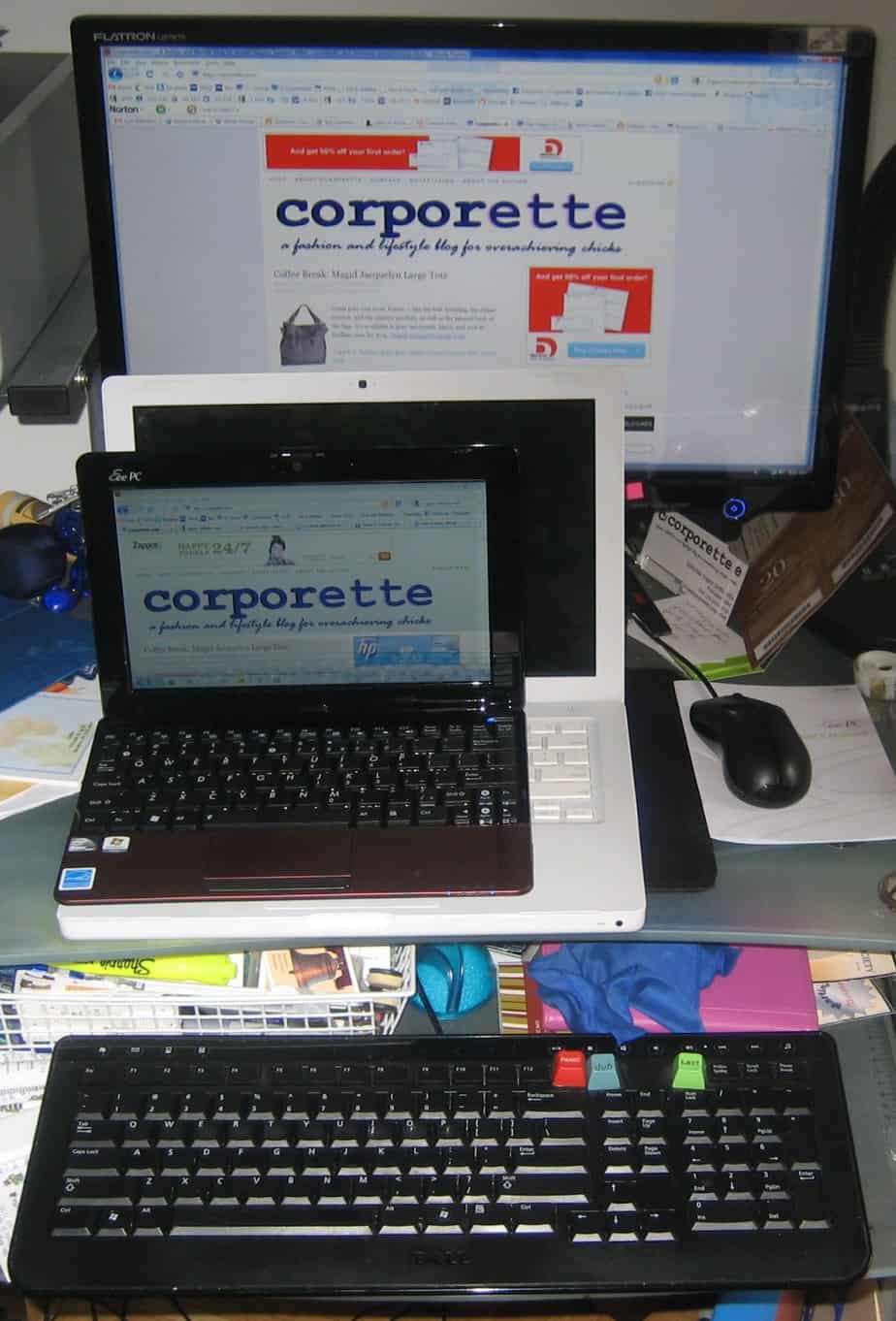 So a week or so ago, I accidentally spilled a beverage on my Mac laptop — and the Mac was down for the count. The cost to attempt to fix it, according to my Genius Bar tech guy, was $400. Considering the age of the Mac (2007) and the fact that I didn't have to worry about saving data from it (I store everything of import on my desktop Dell), I decided that $400 was better spent towards a new computer. (Pictured: my new Asus Eee
, sitting on top of my old dead Mac, sitting in front of my desktop computer screen and keyboard. Pardon the mess!)
My needs: Ability to surf the web. Ability to write extensively (e-mails, posts, articles, etc.) using web-based software like WordPress and Google Docs, as well as on Microsoft Word, Excel, and Power Point. I really wanted a lightweight computer, as I take it with me whenever I travel (particularly since starting this blog). As a bonus feature, I wanted to be able to watch streaming Netflix or Hulu on it, or perhaps watch a DVD.
The hunt: My view narrowed to netbooks pretty quickly, considering that they could do everything I needed (except watch a DVD — most models don't have a CD-ROM drive), and generally had a price range of $250-$500. The iPad just didn't seem like it would be a great device for someone who writes a lot (plus it was much more expensive), and while I did momentarily consider just getting a new full laptop, when I went to the store they looked *so heavy* and big that the thought of traveling with one made me groan. A friend pointed me to a recent Consumer Reports review of netbooks, and after reading online reviews, I decided to go to a computer store to check out the Asus 1015 or, if they had it, the highly rated but slightly older Asus 1005-PEB
.
My concerns: The small screen size worried me, as did the small keyboard. A lot of online reviews mentioned slowness, which also concerned me. At the local Best Buy, I went from netbook to netbook, attempting to stream Netflix on them — all worked fine. I really did not like the mouse button on one model (the 1018), but the Asus Eee 1015
— which had been the top Consumer Reports pick as well — seemed like a great little computer. I decided to buy it and take it home with me to test it further, particularly to see whether the computer felt slow using the wifi in my apartment — all of the test models on the floor had been wired through LAN. The Best Buy guys assured me that I could either return it in 14 days or exchange it for something else (and avoid the 15% restocking fee if I exchanged it).
The stats: $349 price tag. 250 GB storage. It comes with 1 GB memory, but you have the ability to upgrade to 2 GB for about $80. (I decided to wait to see how it functioned otherwise to do that.) The promise of 8-10 hours of battery life. It weighs just under 3 lbs. Asus Eee PC Netbook / Intel Atom Processor / 101″ Display / 1GB Memory – Deep Red
The verdict: I LOVE MY NETBOOK!! I've had textbooks that were heavier than this thing, and notebooks that were larger. (Seriously, see the picture above of it compared to my old Mac and my desktop.)  Yes, the keyboard is a wee bit cramped, and I doubt I'd want to write 10,000 words on it in one sitting — but it suits me perfectly for my current needs. Oh, and my old Mac laptop booted up faster; this one takes a few minutes. (But maybe that's a PC thing?)   The battery life is really no joke — I used it off and on all day Sunday before it died. I still have to find a sleeve for it, and to install Microsoft Office, but otherwise — a fabulous purchase for the price, and exactly what I wanted and needed.
Now I just have to keep beverages away from this one…
Readers, have you gotten any new tech toys? Care to share any reviews?