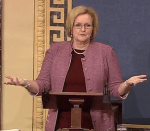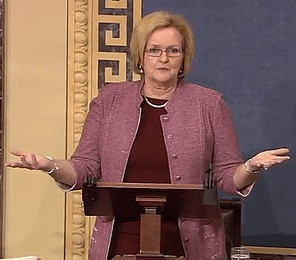 Today's guest post is by Christina of The Style of Politics, a great blog that critiques women in government…
There is one question I am asked more than any other in writing The Style of Politics: Who is the best dressed woman in government? It's a difficult one to answer, actually. There are a number of women who look great more often than not: Senator Susan Collins, Secretary Hillary Clinton, Rep. Michele Bachmann, Speaker Nancy Pelosi. But my personal favorite wardrobe on the Hill belongs to Senator Claire McCaskill.
There's a lot to think about when you get dressed in the morning, but I suggest you keep two elements at the forefront of your mind: color and shape. Senator McCaskill does both of these really well. You can do it too.
First, color:
Senator McCaskill knows her best colors are light, warm and clear. She looked great in saturated pink at the World War II Memorial:
How do you know what colors are best for you? Try this test: gather tops or scarves in three pairs: a light and a dark, a warm and a cool, and a clear (or bright) and a muted color. Put each on one and have a look in the mirror. Which one in each pair looks best? If you're not sure, look specifically at the area around your nose and mouth – if it looks ruddier, that's not the right color for you. Also look under your eyes – if circles or bags become more pronounced, that's not the right color either. A good color will make your skin tone look even and your eyes look bright and awake.
Second, shape:
Senator McCaskill knows her best shapes are those that define her waist and elongate her torso, without being too stiff or boxy. She wore a great navy blazer and lemon yellow top on the Senate floor recently:
This jacket is tailored, defining her shoulders and waist, but she wears it open to keep it from boxing her in. The light color of her top underneath provides contrast with the jacket that creates a strong vertical line on the body. She looks authoritative and professional.
There's a lot going on in that moment in front of the closet: What's the weather like? What did I wear yesterday? What do I have to do today? What looks the most like that great dress I just saw on Corporette? But color and shape will never steer you wrong!
Readers, who is your favorite real-life style maven? What style tips have you learned from her example?