2018 Update: We still love these strappy flats, but you may want to check out our more recent roundup of cute flats for the office, or click here for some of our recently-featured strappy flats.
Sure, we all know what basics professional women are supposed to have in their closets, but if you're buying one for the first time or replacing one you've worn into the ground, it can be a pain to find exactly the right incarnation in stores. In "The Hunt," we search the stores for a basic item that every woman should have.
Maybe I'm the only one with this problem — but my dirty little secret is that I've never found a truly "walk for miles" comfortable pair of flats that hasn't had straps. I just can't do the ballet-style shoes, even though I see millions of women happily wearing them. So if you're like me, I thought I'd round up some sophisticated flats with straps. Readers, which are your favorite flats? Do you prefer strappy flats, also?  (Not pictured, but: I also found two sportier pairs that might be great for commuting or on the weekends: the Patagonia – Maha Strap
and the Crocs – Alice Work
.)
I haven't tried Aldo shoes in a few years, but I really like the look of these pointy-toed flats from Aldo. The beige and pink combo (pictured) is marked down to $50, while other colors (blue/yellow and black/beige) are still full price at $70. Aldo Leggat
Wow: I'm kind of surprised these flats are only $65. I just think so many features look more lux — the sophisticated leather-on-suede, gray-on-black … and with a comfortable rubber sole? Wow. They're $65 at Yoox (limited sizes only, alas). JIMMY LONDON Ballet flats
Another new brand to me: Dune. I looove the almond toe here, as well as the low cut around the sides. Gorgeous. They're available in coral (pictured) and a pale "taupe" for $91.14 at Asos. Dune Lexus Suede Strap Ballet Flats
Peep toes are not appropriate for every office, but:  these peep toe flats by Delman are really cute.  I love the strappy details at the back, as well as the fact that they're on sale — they were $250, but are now marked to $125 at Nordstrom (also available in "nude"). Delman 'Fern' Flat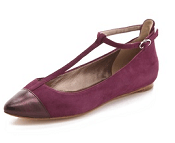 Of course I love the purple suede T-strap ones. The metallic leather on the cap toe is great (it's also available in black suede with an almost gold metallic cap toe), and the non-slip rubber patch on the sole sounds perfect. They're $225 at ShopBop. Belle by Sigerson Morrison Varda T Strap Flats
Oooh: Love the double straps on these, and the studded suede panel at the heel is awesome — it's a great little bit of attitude. These are $275 at ShopBop. (They're also available in beige
.) B Brian Atwood Amata Flats
Like this feature? Check out other recent installments!