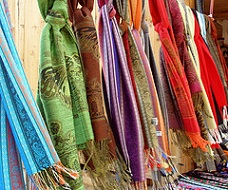 Reader S wonders what to do about an ill officemate she doesn't know very well…
I have an office etiquette question. I work in a large office suite and am on nodding acquaintance with a woman on the other side of the floor. Recently she has started wearing a head scarf, and once I saw her without one, and she has lost all her hair.

Should I just ignore this? Or a general "everything OK?" and let her disclose what she'd like?
Hmmn. I think this really depends both on the office as well as what you know of this woman. My gut is telling me to continue your relationship as normal rather than say anything — smile, make chitchat, and see if she brings it up. I think my reasoning is going like this: if you don't talk to the woman much now, and then you start this conversation and she says something like "well yes, actually, I have cancer and have six months to live," then what are you going to do with that information? Be her best friend? Go back to not talking to her? It seems selfish to bring it up to satisfy your own curiosity.  (Pictured: Scarves, originally uploaded to Flickr by theqspeaks.)
On the other hand, if it's a smaller office and the woman doesn't have many people to talk to, you may want to broach the subject if you're ready to be the person she can lean on at the office. The next time I saw her — in the coffee room, washing your hands in the ladies room, whatever — I might go one of two routes, and say something like "How are you feeling?" — or something very casual, such as "that's a beautiful scarf — is it silk?" Or something like that, and see where the conversation goes.

I'm curious, readers — what do you think? Do you think the coworker should know Reader S is concerned and has noticed — or that Reader S should mind her own business?