Once you're out of the corporate world, what will you miss? If you'd known you'd miss it, might you have appreciated it more? Today's guest poster, Lisa Carnochan from Privilege, has put together the top 5 things she misses about the corporate life — as well as what she doesn't. I recently met Lisa in person, and I'm absolutely thrilled to have her guest posting again — her first, Career Advice from the Hiring/VP Level, remains one of Corporette's top posts. Enjoy, readers! – Kat  (Pictured below: Empty desk, originally uploaded to Flickr by Aldric van Gaver.)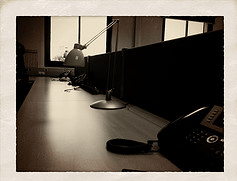 I imagine that most of you reading Corporette are working women. I was one myself for many years. And, now, it appears, I've semi-retired. I remember dreaming, on grey days full of mean emails and meandering meetings, of what it would be like to be done with it all. And now I know. Here's what I miss, and what I don't miss at all. By the way, you'll notice I don't mention the paycheck. That goes without saying. Getting paid rocks.
5 Things I Miss About Working
1. Job interviews
I'm not kidding. When else do you have such a clear chance to package yourself up all shiny and valuable-like? I also love the problem-solving aspect. Ask your interviewer questions about the challenges he or she faces and then show your qualitative analytic skills on the fly. You're their drive-by consultant. Works like a charm and makes one feel so damn smart.
2. Performance reviews
In regular life, nobody ever sits you down formally and tells you how you're doing. Nobody even tells you what the criteria are, most of the time. Performance reviews are a unique opportunity. Just make sure you know your management's expectations, do your best to meet or exceed, and make the right relationships so you can advertise yourself with some dignity.
3. Teams
I miss lunch with the team. I miss the banter of software architects with IQs over 180. I even miss meetings. Gather a group of intelligent people, lay out a clear problem, manage the agenda tightly and with humor, focus on forward progress. Voila. The occasional flashes of brilliance.
4. Testosterone days in ladylike shoes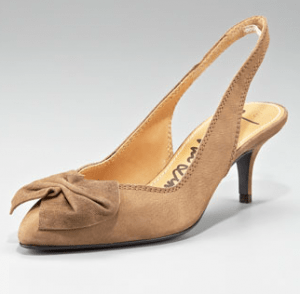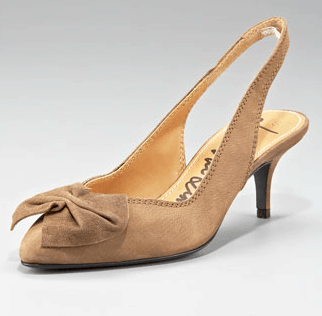 I've always been a sucker for lady shoes. Don't like to wear them much, now that I actually am a lady of leisure. But when I stomped the corridors of power, told on one occasion I had more testosterone than the boys, lady shoes amused me to no end. I'd love an excuse to buy these
Lanvin Bow-Toe Suede Slingbacks
, for example (available at Bergdorf Goodman for $695). And I might miss the stomping too, just a bit.
5. Routine
Work can be boring, right? Every day the same thing. Up with the alarm, grab tea or coffee, commute, work, home, rinse, repeat. On the other hand, routines, if you build in stuff that's good for you, can be your best friend. I used to squeeze my exercise in between rolling out of bed and sitting down at my desk. Semi-retirement is characterized by a lot of, "What now?" The effort to answer, "Eat my vegetables and go to yoga," is not insubstantial, in the absence of structure.
5 Things I Don't Miss
1. Wondering if I could have done it.
2. Resenting those who had done it.
3. Wondering what "it" really was.
4. Fear of losing; the deal, the promotion, my long-suffering capacity to hold back tears of rage or disappointment.
5. Mean bosses, treacherous subordinates, deceptive peers, stupidity and cruelty of any sort. Here, in the world beyond work, one can simply walk away from most of the bad guys. Which makes us wonder, could we do that in our work life too? After, of course, trying our best for a good long time.
Readers, what do you think you'll miss about the corporate life, once you're out?
Interested in writing something similar for Corporette? Check out our guest posting guidelines.