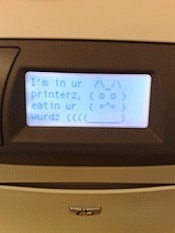 We don't know about you, but for the past few years we've shared a printer with a group of people. We frequently prefer to read things on paper rather than online — especially if we're marking something up or comparing documents — and so it's annoying when we get to the printer to discover that someone has taken part of our printout, or we thought we printed seven or eight documents and can only find some of them. Did we forget to print the other docs? Did someone take them unwittingly? Who knows. (Pictured:  hacked printer, originally uploaded to Flickr by jez.)
As a solution to these problems, we've been a fan of a program called PDF Factory for a while now. The idea is that instead of printing directly to the printer, we choose the option to "Print to PDF Factory" instead. A new window opens, and you can see what's in your budding PDF file. You can move the pages around, and when you're done you can save it to PDF or print all or some of what you've just created.
It doesn't sound that useful, we know, but here are some examples of how we find it useful:
– Printing Excel documents — we can see exactly what the page looks like and what's cut off or too small to read, without running back and forth to the printer numerous times. Ditto for printing web pages — you can see exactly what's cut off and what's wasting paper (such as a "Comment here" link and nothing else on the final page).
– Making a "package" PDF file that's useful for later — for example, an e-mail that comes with five or six hyperlinks in it. You take the time to print the e-mail as well as open the web pages, and print them all — and it comes out to about 35 pages or so. When you eventually print those pages, it will be a 35-page "job" — no one else's papers will be stuck in between yours. Depending on your printer, you can also have all 35 pages automatically stapled, or printed double-sided. Furthermore, you can save all of those 35 pages as a single file, which is handy if you a) lose your package, b) want to refer to it again, or c) want to pass along to a superior for easy printing.
– Printing personal documents. If we're printing a personal document, we tend to stick it near the end of a PDF Factory print job; that way we can better guestimate when it will be shooting out (and make sure that no one else picks it up by accident).
The program offers a free "trial" version that does not expire — the only catch is that it prints "Printed by PDF Factory" on the footer of every page. The paid version is only $50, though.
Do you use a product or tool that makes you more efficient, or makes your working life better? Write to us at editor@corporette.com to let us know. To see previous "Tool of the Trade" posts, click here.