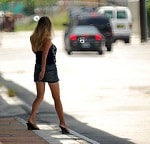 Let's set the scene for you: You enter the break room. One of your colleagues stands there, minding her own business and getting coffee. You notice that she's wearing a khaki linen skirt that is a bit too short — when she bends over to put the milk back in the fridge you can see everything. When she stands up again you realize that the skirt is see-through, to boot. Your internal debate begins: should you tell her?
Photo at left by DCvision2006, courtesy of Flickr.
We've all had that unfortunate outfit mishap where a newly-purchased item of clothing doesn't quite work out the way you want it to — it's too low cut, it's popping open, the skirt is shorter than you thought, etc. Some of these things, you know about — but other times, it takes a good friend to tell you. Would you want someone to tell you? How do you act when someone else's outfit is inappropriate? (Note that for today's poll, you're allowed to choose more than one answer.)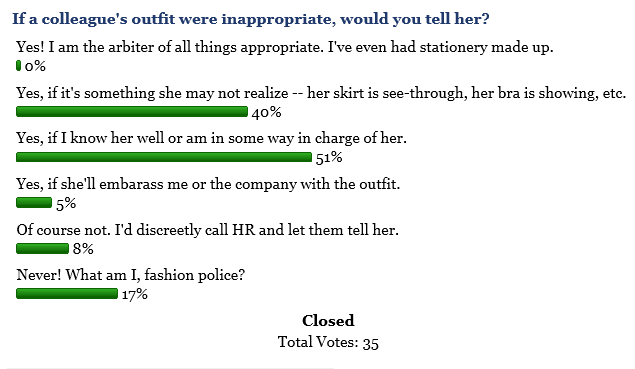 Our tip: Young lawyers are often told to keep a conservative suit in their office, in case there's a last-minute court appearance. This is not bad advice for all women working in conservative offices — keep a safe outfit (one that you know fits) at the office. It'll save you when your outfit is accidentally inappropriate, as well as when you spill salad dressing.
Related (kinda): How to Tell Someone They Smell Bad At Work [SpeakStrong]