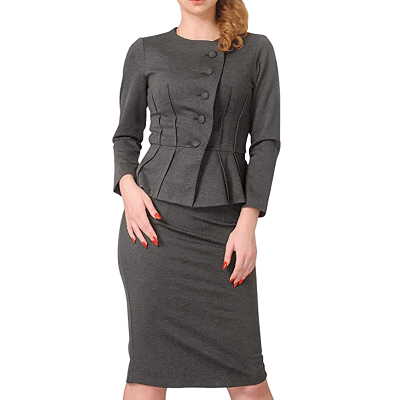 For busy working women, the suit is often the easiest outfit to throw on in the morning. In general, this feature is not about interview suits for women, which should be as classic and basic as you get — instead, this feature is about the slightly different suit that is fashionable, yet professional.
Amazon clothes can be hugely, hugely (hugely) hit or miss. Still, if you're on the hunt for a super affordable skirt suit with a vintage flair, I wanted to bring this one to your attention. I actually do think this suit would work in a lot of situations in real life (maybe not your first interview or court appearance, but after that, maybe) — but can I just note how awesome it would be if you were planning on a "young RBG" costume for Halloween? If anyone is holding Halloween this year?
A few notes on the product — the "real women as models," user-submitted photos down at the bottom are my absolute favorite because you can see all the pros and cons, and how tailoring could fix quite a few of those. (I would want the hem to hit JUST beneath the knee or the middle of the knee; too much lower I think looks dowdy.) But there are a lot of real women absolutely slaying in this suit! There is also a video, up at the top of the product page, which is something I don't think I've ever seen before on Amazon.
(Here are a few older threads with Corporette® readers recommending Marycrafts products, as well… and because I am crazy, here are the specific Marycrafts dresses they recommended that are still in stock…)

For my $.02, in the photo pictured here, the skirt is "smiling," which means it's too tight — a slip or other silky foundational garment (Spanx, Jockey slipshorts) would likely help a lot, or going up a size.
The pictured suit is $49, available for Prime shipping and free returns in some colors/sizes, and comes in 5 colors in sizes 4-20. Nice.
This post contains affiliate links and Corporette® may earn commissions for purchases made through links in this post. For more details see here. Thank you so much for your support!
Psst: these are some of our other favorite budget suits if you're on the hunt…