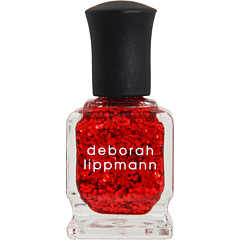 Something on your mind? Chat about it here.

Happy Weekend! If you're looking for something festive during the holidays, I've been lusting after this sparkled nail polish from Deborah Lipmann. With big chunks of sparkles, these babies are long lasting and (relatively) quick drying. For this week, I think, nothing but the reddest red will do. This one is $18 at Zappos. Deborah Lippmann – Glitter Nail Polish
UPDATE: I just read in Real Simple that Lippman advises you remove sparkly nail polish with a piece of felt — just add nail polish remover to a piece of felt the same way you would a cotton ball and it comes right off. Interesting!