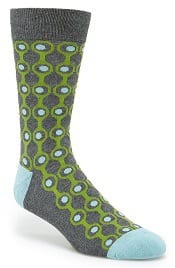 2017 Update: Curious about when the next big Nordstrom sale is? The big Nordstrom Half-Yearly Sale JUST started (Dec. 25, 2017-Jan. 2, 2018). Sign up for our newsletter to get our picks for workwear and beyond!
The below content is about the 2014 Nordstrom Half-Yearly Sale.
Something on your mind? Chat about it here.
Happy weekend! Just in time for Father's Day, Nordstrom has kicked off the Half-Yearly Sale for men — and while hey, I'm sure my dad and husband need new stuff, I'm always excited to raid the guys' section for fun, colorful socks for myself. (I've always been a bit weird about my socks — especially in my suit days, wearing wacky socks was my way of staging a tiny rebellion against the rigors of the job — a private joke for myself.) Anyway, I like these gray/lime/light blue socks from 1901, marked — happily — down to $5.36. 1901 'Retro Stripe' Cotton Blend Crew Socks
Ladies, what are you getting the dads in your life for Father's Day?