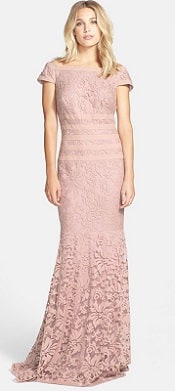 Something on your mind? Chat about it here.

Oh, hai. I'm just hanging out, doing my laundry. Yep, everything else was dirty — and I never get to wear this dress, and that's a pity because, you know, it's gorgeous, and I love it, and we all need to wear this dress. I somehow stumbled on this dress and now can't decide what iteration I need more — the rose mermaid dress (pictured) or — and I'll admit this is where the smart money is — on the knee-length dress that looks very similar, from the same designer? This cocktail-length dress has the markings of a winner — it comes in 10 colors (!), sizes 0-16, regular and petites — looks like you can wear a bra with it without problems — and it has 14 glowing reviews. I like — a lot. Even better? The cocktail dress is only $238. (The rose mermaid gown is pretty affordable also, at $298.)  Tadashi Shoji Embroidered Lace Sheath Dress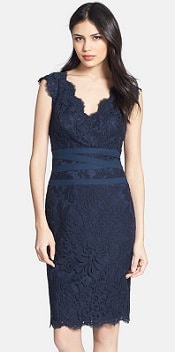 Here's a lovely plus-size cocktail dress with lace details, as well.