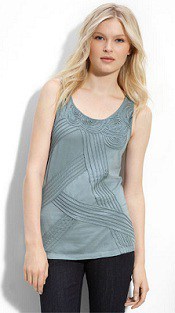 Something on your mind? Chat about it here.
Nordstrom Rack has some crazy sales going on — tons of lucky sizes under $40, and there seems to be tons of great stuff for plus-size, maternity, going-out clothes, weekend clothes, and yes, even working clothes. (Oh, and tons of high-end winter coats on sale for 60% off.) For this weekend, I'm liking this simple embellished tank — it's the perfect kind of thing to wear with jeans and heels on a night out with friends.  (Its available in petite (pictured) and plus sizes.)  Was $39, now marked to $9.97 at Nordstrom Rack.  Caslon Embellished Tank
P.S. If all goes well we'll be doing some tech stuff behind the scenes this weekend — it shouldn't interrupt the site availability too much, but if it does, please bear with us. Thank you in advance!