Liking these posts? Follow us on Twitter or like us on Facebook — this is the edited version of what we're reading! (We also Tweet if we hear about a good sale through our CorporetteDeals Twitter feed.)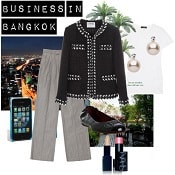 – Lisa from Privilege has some great thoughts on how to build a work wardrobe: one use case at a time.
– The NYT has a fascinating story about vanity sizing in clothing lines.
– More women than men are getting advanced degrees, says the Seattle Post-Intelligencer.  Go ladies!  Of course, this presents another problem, as noted by The Daily Caller: will women insist on marrying their equals in terms of degrees — or will more women "marry down"?
– Lifehacker shows how to prevent wrist strain created by sitting at the office too long.
– Prevention rounds up 21 prepared/packaged foods that are actually healthy for you.