Liking these posts? Follow us on Twitter or like us on Facebook — this is the edited version of what we're reading! (We also Tweet if we hear about a good sale through our CorporetteDeals Twitter feed.)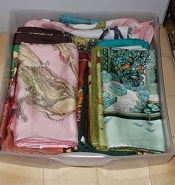 – How do you store scarves? Une femme d'un certain age shares her tips. Meanwhile, The Lawyerist has a round-up of professional bags for women (and a quote from me) — you can also check out some of our previous advice for fashionable briefcases and tote bags.
– Wow: The WSJ has a whole section on women in the workplace this month — I'm still making my way through all of it, but it looks really interesting. The Careerist takes away that women are holding themselves back, while Career Diva focuses on a more minor point that women should show emotion, but not be emotional.
– Stressed out? NPR says the best way to live to a ripe old age is to bounce back from stress.
– In financial advice, Mint advises you to have an investment policy statement, while The Simple Dollar explains the dividend method of passive income.
– Finally, a few minor security alerts from me: your email address was probably hacked recently, and in particular if you use Gmail, you may want to take advantage of some new security settings. Facebook offered an important security update a few months ago, but it's news to me so I thought I'd post again.